HBO's The Outsider (an adaptation of the Stephen King novel) is turning out to be a hell of a slow burn as the drama series unfolds. The third installment, "The Dark Uncle," aired on Sunday night, and the show is already leaving questions to be answered. We'll work through them on a weekly basis, beginning below.
The Outsider's debut pair of episodes spent most of its time building up the show's central murder mystery, which revolves around the death of a young child, Frankie Peterson. We saw all the inconsistencies surrounding the accused, Terry Maitland (Jason Bateman), who was tied by forensic evidence, eyewitness statements, and CCTV footage to two places at the same time. Terry maintained his innocence until his dying breaths, and the lead cop on the case, Ralph Anderson (Ben Mendelsohn), will continue to try and make sense of it all. Of course, Ralph admitted to jumping too quickly (due to biases leftover from his own trauma) to publicly arrest Terry, a decision that probably led to his death. Now, it's time to call in a real pro who happens to be notorious within what some folks refer to as the Stephen King universe.
"How about sending Holly Gibney?" This namedrop introduces a familiar name from King's Bill Hodges trilogy of books (Mr. Mercedes, Finders Keepers, End of Watch) as well as The Outsider novel. Holly's a private detective known for her unorthodox ways, to put it mildly, and she's also very particular and sits somewhere on the autism spectrum. Depending on who you ask, she's a stellar or overdone character. Fan forums often go back and forth about how much fans love seeing her pop up, but some folks insist that King's more fascinated with Holly than his readers are. (A fresh tweet from King celebrates how there are now two Hollys on TV, one picked up by Justine Lupe on Mr. Mercedes and the other portrayed by Cynthia Erivo on HBO, so there may be something to that accusation.)
Whatever the case, Holly's entrance is a clear signal that law enforcement has no bloody idea how to solve this case, and they desperately need her talents, which do embrace the occult. With all of that said, let's get to some questions.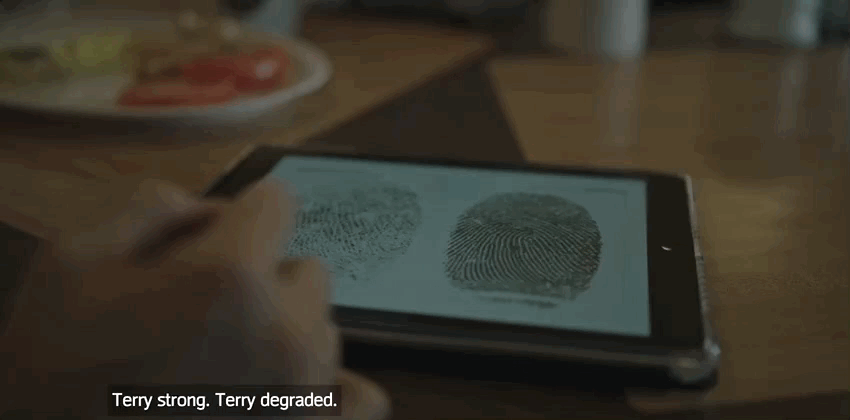 What's up with the "ancient" fingerprints? Amid the wealth of forensic evidence uncovered by cops at the barn — all of which appear to be Terry's discarded bloody clothes following Frankie's murder — a curious belt buckle surfaces. Actually, it's not really the belt buckle but fingerprints on the buckle that are stumping investigators. Two sets of prints appear to belong to the same person, but one set is extremely degraded, and it appears as if one belongs to "Terry young" and the other to "Terry ancient." Not only that, but the bodily-fluid-like substance found in the barn hasn't yet been identified by the lab. So, the supernatural bells are going off here already.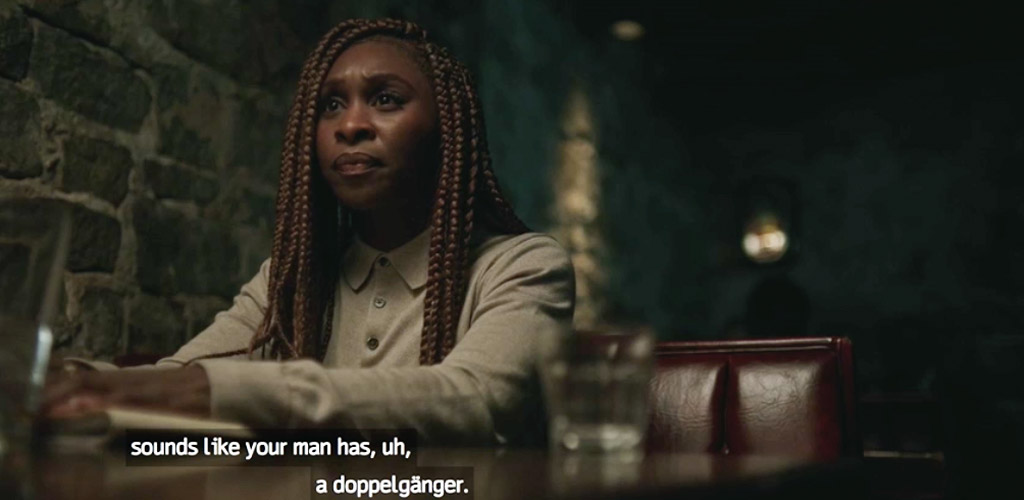 What of this "doppleganger" business? Holly drops her initial theory on Ralph and Yunis, and it doesn't go well. And yeah, it sounds nutty to think that cops would accept that a "non-biological double" of Terry could have killed Frankie. Yet she's perfectly serious while discussing how countless cultures present different versions of the German myth of the doppleganger, which maintains that "everyone in the world has an identical double." Granted, not everyone is accused of murder while seemingly occupying different spaces on Earth like Terry, but here we are. Amid even more exposition, Holly insists that the doppleganger is "a primitive construct" that's often used to explain mental illness. It's all spooky and doesn't even begin to explain the hooded figure (of death!) that we saw last week.
This scene also gives us some insight into the brewing Ralph-Holly dynamic. We talked last week about how he only operates within the realm of tangible evidence. He's never met Holly, but he's so baffled by everything that he's seeing that his Dana Scully-like ways finally found a case with which he can't cope. Whereas Holly's Mulder-esque reputation leads the cops to make jokes about her "parked spaceship," but the joke's on them: she's aviophobic and won't even fly. (Bad joke.) Well, it seems clear on its face that Ralph has accepted that Holly's approach might be necessary, but I wonder if we'll see another reason surface later in the season during Ralph's therapy sessions. After all, we learned this episode about Ralph's dark side emerging after his son died.
Ben Mendelsohn taking on two guys in a bar? Alright.
Why is ornery Detective Jack mysteriously chanting? The cruel deliverer of ultimate bar wedgies (and I still don't understand that) makes the horror-trope mistake of visiting the barn all by himself. And of course something attacks him, and of course we can't see anything because this TV show doesn't believe in lighting. This isn't a scary moment, really, although the aftermath of his wound is perplexing. Why doesn't Jack visit the ER when he's clearly in a great amount of pain while trying to treat what he thinks might be a burn? As for why he's repeating, "whatever you need me to do" at the end of the episode, I suppose this might be related to whatever the hooded figure represents. And maybe this is also tied into Jessa's "daddy got a cut" declaration last week.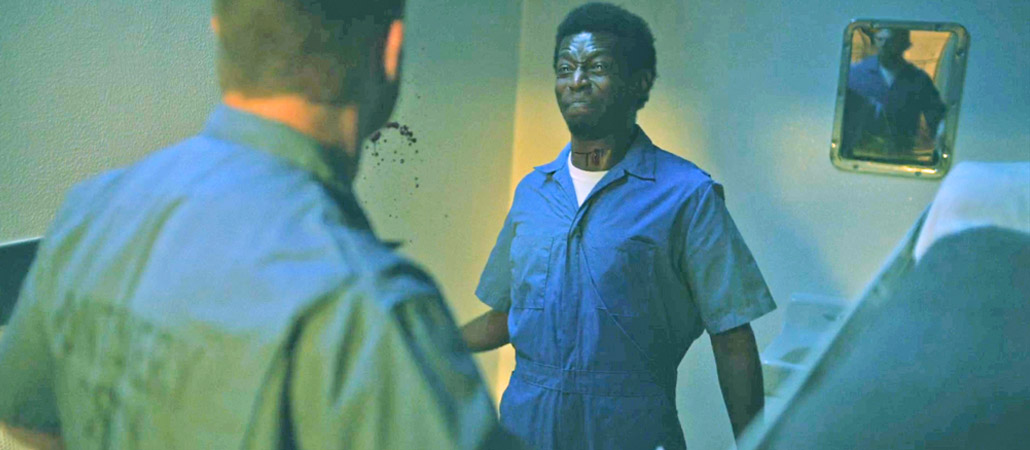 How is the imprisoned nurse tied to everything? Yes, let's talk about about Terry's cut, and for this purpose, I brightened up one of the ridiculously dark scenes, so we can see what's going on — this male medical worker commits suicide by slicing his own neck. This appears to be the same nurse who Terry had an encounter with at his father's medical facility. The guy received "child killer" hate mail in prison, but we won't be hearing from him any longer, so no clues will come straight from him. However, Holly's on the case. She's digging into his past, and we should expect followup there.
Should we be worried about the ominous message for Ralph? Jessa's night terrors may be even more sinister than they appear. At first, the series played them off as a result of her trauma, and there's also the added fact that the poor kid's going through some stuff that wasn't a priority with the murder investigation ongoing. However, Jessa insists that a man keeps visiting her at night, and sometimes he looks like her dad, and sometimes he's like Terry but "messy." The man wants Ralph to stop investigating, or something bad will happen. She continues to warn that Ralph is "the one who's supposed to be scared," but Ralph ain't a believer. Well, he probably should start believing in whatever it is that Holly's working to uncover.
HBO's 'The Outsider' airs on Sunday nights at 9:00 pm EST.