The Simpsons has an odd connection to the Donald Trump presidency thanks to the show's "prediction" that the "billionaire" would become president. If anything, it just shows how much of a joke-turned-reality the Trump presidency really is. Since the election, Trump has been mocked by the show several times, usually in a far more direct way than in the past. The show has perfected its representation of Trump, his famous hair, and the numerous headlines he's made since entering The White House.
They've even gotten into making fun of his administration, adding in cartoon versions of his many cabinet members and advisors. This includes all the folks he has fired, including Rex Tillerson in this latest short: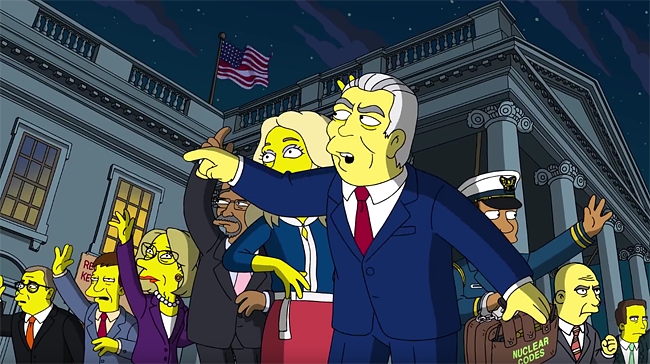 But with "A Tale Of Two Trumps," the show tries to give us a look at the presidency most folks only dream about. And as it turns out, Donald Trump dreams about it too. He takes a deep look in the mirror and starts to get honest about his performance and actions over the years, reversing course like some orange-hued Scrooge on Christmas morning to pledge his love to Melania, scold Vladimir Putin for Russia's meddling, and even apologizing to Rosie O'Donnell for pretty much everything.
Then he wakes up. The "dream" was actually a nightmare. He's not actually about to stop having someone brush his teeth for him, that'd be silly. That doesn't mean the real Trump isn't about to miss the true meaning of the dream. "A dream like that has to mean something," he says, realizing he has to find the takeaway.
The end speaks for itself.
(Via Fox)