In a time when television sitcoms focused on oversized families and overworked dads, NBC's 3rd Rock from the Sun found the humor in everyday human oddities on our "third rate planet." With tongue-in-cheek dialogue and physical hijinks, the series (which ran from 1996 to 2001) didn't shy away from the outlandish and the inappropriate – a gamble that paid off with audiences and critics, alike.
The Solomon family racked up an impressive eight Emmys, two Golden Globes, and two SAG awards during their time in our galaxy, a fact that comes as no surprise when you see what the main 3rd Rock from the Sun cast is up to these days.
John Lithgow – Dr. Dick Solomon
If only we could all use the "I'm an alien" excuse for biting sarcasm and passive aggression. Lithgow was already a well-established actor when he began portraying Dr. Dick Solomon, the "high commander."
Lithgow, who turns 71 today, has been showered with accolades during his four-plus decades in show business – both for onscreen roles (he's got five Emmys) and for his work on stage (he's a two-time Tony-winner).
Some career highlights post-2001: He starred alongside Jeffrey Tambor in NBC sitcom Twenty Good Years from 2006 to 2008 before embodying the Trinity Killer in season four of Dexter. He was Barney's "Legendaddy" biological father for several episodes of How I Met Your Mother, James Franco's father in Rise of the Planet of the Apes, and Mathew "Alright Alright Alright" McConaughey's father-in-law for 2014 space epic Interstellar. Lithgow will next play the great Winston Churchill for Netflix series The Crown.
Oh, and did we mention he's a best-selling children's author? The actor has published 11 kids' books with Simon & Schuster, with titles like Marsupial Sue and Mahalia Mouse Goes to College.
Kristen Johnston – Sally Solomon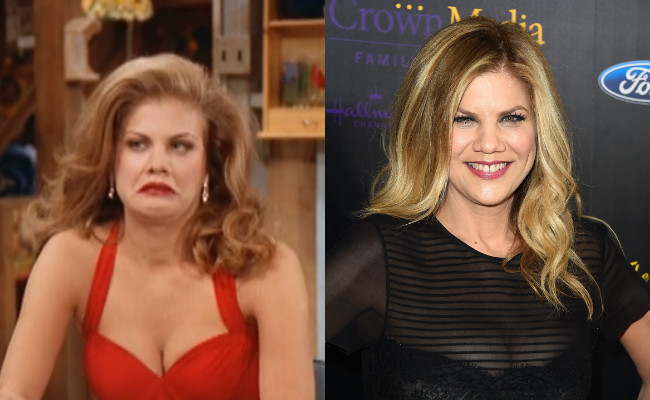 Things haven't exactly been easy for Johnston, now 48, post 3rd Rock. The actress, who's popped up in bit parts in everything from Modern Family, Sex and the City (as the socialite who fell out a window) to ER (she appeared in six episodes in 2005), and The New Adventures of Old Christine, admitted in 2013 that she was a "total drug addict and alcoholic for years."