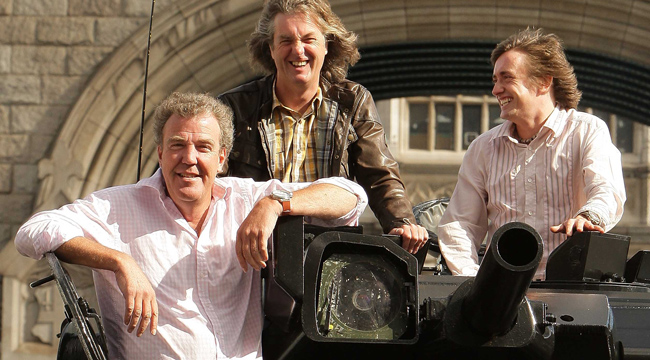 After months of speculation on where Top Gear hosts Jeremy Clarkson, Richard Hammond, and James May would end up, we finally have our answer. They're on their way to Amazon Prime Video, Amazon's online streaming service that's vying to compete with online heavyweight Netflix. Via London Evening Standard:
"No details of the trio's deal have been released but one Amazon insider said: "We have made a significant investment."

The global deal commits the former Top Gear presenters to three seasons of the as yet unnamed show. Work on the first season is expected to start in the Autumn.

It is likely to go head to head with the BBC's new version of Top Gear, which generates around £50 million a year for the Corporation. The new Amazon show will not feature Top Gear's mysterious driver The Stig.
…
As well as the substantial financial rewards on offer, the three are said to have been attracted by a pledge by Amazon to give them a free creative rein to make the shows they want."
The announcement has received mixed reviews from fans online, who quickly realized this means they'll have to pony up $99 more a year for another streaming service. Then, there's the concerns of users in places like Canada and Italy where Amazon Prime still isn't available.
That being said, it's always cool to see more online-only TV content being funded by deep-pocketed corporations. Amazon hasn't had quite the massive success that Netflix has with original programming, but this is a good sign they're in the original programming game for the long haul. The terms of this deal won't stay secret for long, and I expect there will be a lot of zeros attached.
(via London Evening Standard)