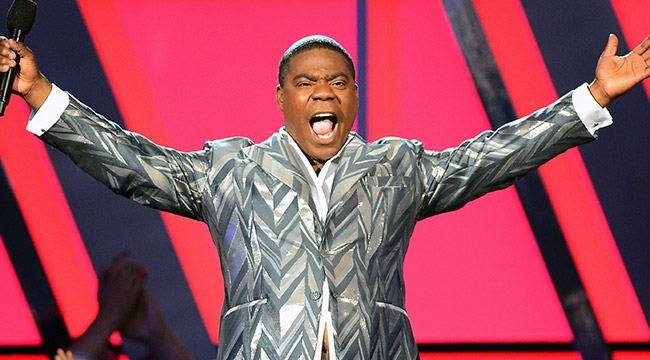 30 Rock star Tracy Morgan didn't win the Emmy for Outstanding Guest Actor in a Comedy Series for his phenomenal SNL hosting duties, but the recovering comedian is still going strong following a 2014 car accident that nearly killed him. His Picking Up The Pieces stand-up tour sold out venues and earned rave reviews from across the country, and thanks to Key and Peele co-creator Jordan Peele, Morgan already has a new project lined up: a brand new, single-camera comedy series for TBS.
According to an official press release, the untitled project — which stems from Peele's collaboration with Vice Principals and Eastbound & Down alum John Carcieri — revolves around an ex-con played by Morgan. Released from prison after serving 15 years with good behavior, Tracy's character returns to his Brooklyn neighborhood and finds everything has changed. The community is heavily gentrified, his former girlfriend has married a successful white man, and — oh yeah — he's got two kids he didn't know about! The 10-episode series follows Tracy as he tries to connect with his children and rebuild bridges to his broken past, all while falling back on the not-so-legal skills he learned while behind bars.
"Tracy and Jordan are two of today's most sought-after and authentically funny comedians, and this show captures all the hilarity you would expect from this brilliant duo," explained Brett Weitz, TBS' executive vice president of programming. "TBS is becoming a home for the most creative and diverse comedy creators in the business, and Tracy and Jordan are a perfect fit for this network."
Sure enough, TBS has already debuted several highly acclaimed comedy shows — including Angie Tribeca, Wrecked and Full Frontal with Samantha Bee. Along with newcomer People of Earth, which stars Daily Show alum Wyatt Cenac, Morgan and Peele's untitled series joins an increasingly diverse and all around funny array of comedy programming.
All TBS needs to do now is score the coveted Eddie Murphy cameo (he could play Tracy's uncle who sounds just like him or something) and BOOM. All the Emmys will be theirs.