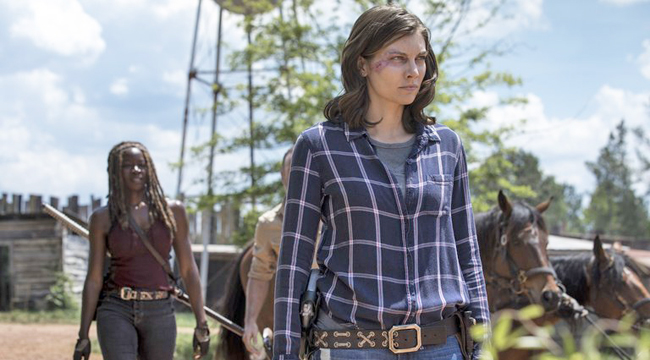 Despite weekly ratings that are basically one-third of where the highest-rated The Walking Dead episodes were, and despite precipitous ratings falls over the last two years, the AMC series has easily managed to hang on to the top spot among all cable shows during 2018. The fact that The Walking Dead has been able to maintain that position in spite of a number of series' lows this year says more about how huge the series used to be rather than the strong current state of the series' ratings.
In fact, for the entire year, it was the fourth most watched show in all of television in the demographic that matters (18-49 year olds), and the third most watched scripted program. Then again, number one on that list, Roseanne, has already been cancelled (the only still airing scripted program seen by more 18-49 year olds is NBC's This Is Us). For the year, The Walking Dead chalked up a 5.3 rating among 18-49 year olds, just behind the 5.4 of This Is Us. Roseanne and Sunday Night Football led all television programs with a 6.2, which is huge but still doesn't compare to the 9.6 put up by The Walking Dead two seasons ago.
Indeed, two seasons ago, The Walking Dead was completely unbeatable. However, the fact that it's only the biggest hit on cable clearly hasn't been particularly discouraging for AMC, which has set in motion a series of movies centered around Rick Grimes.

The spin-off series Fear the Walking Dead also performed well this season with a 1.8 rating among 18-49 year olds. To put that into perspective, it's tied with other big television hits like The Simpsons, Dancing with the Stars, and Black-ish. In other words, the spin-off of The Walking Dead has the same ratings as Black-ish, which was big enough in its own right in 2018 to sustain its own spinoff Grown-ish.
Nothing else on cable came close to The Walking Dead in 2018. In fact, the second highest-rated show on cable, American Horror Story, had nearly half the viewers, as it came in with a 2.6 rating (tied for 16th on all of television). Fear the Walking Dead was actually third among all cable shows while The Talking Dead was number four. In other words, The Walking Dead universe was responsible three of the four highest rated shows on all of cable in 2018. South Park, on Comedy Central, was fifth on that list.
Don't expect The Walking Dead to maintain that lead next season. It won't be because of falling ratings for the AMC series, but because Game of Thrones will return with its final season, which will be a big boost for HBO. Its highest rated show this year, Westworld, was in a 7-way tie for 93rd among all television programs.
(Via Indiewire)