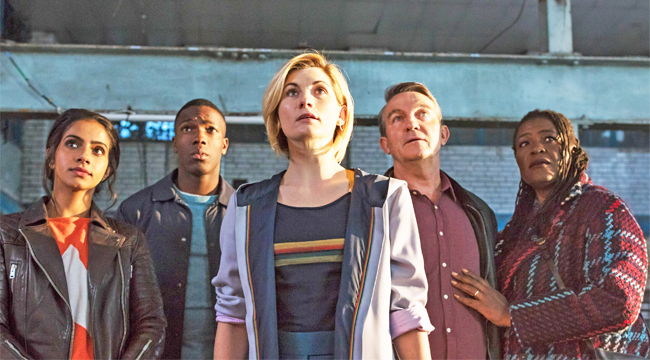 Doctor Who (Sunday, BBC 9:00 p.m.) — Jodie Whittaker recently announced that she will return for another season as the Doctor, but her first season finale is here this weekend. She and her crew will answer multiple distress calls on the planet of Ranskoor Av Kolos and discover many secrets in the process. In addition, the BBC One has announced that this year's Christmas special will air on New Year's Day.
Saturday Night Live (Saturday, NBC 11:29 p.m.) — A pumped-up Jason Momoa will bring his (shirtless?) Aquaman flavor as host with musical guest Mumford & Sons.
Meanwhile, pre-holiday weekend programming keeps chugging along …
Macgyver (Friday, CBS 8:00 p.m.) — A shocking secret from Matty will reveal a criminal-organization stint on behalf of her undercover husband, who needs assistance from MacGyver before it's too late.
Blindspot (Friday, NBC 8:00 p.m.) — Remi's dealing with a bad case of ZIP poisoning, which is wreaking havoc on her ultimate plan.
Last Man Standing (Friday, FOX 8:00 p.m.) — Karl's new job kicks off disastrously while Ryan lands in the doghouse while babysitting a puppy.
The Cool Kids (Friday, FOX 8:30 p.m.) — Hank gets involved with a much younger lady, who the gang suspects of planting a pregnancy trap.
Dynasty (Friday, CW 8:00 p.m.) — Wedding planning disasters strike after Alexis' ulterior motives come to light, and Sam might be getting involved with a Carrington staff member.
Midnight, Texas (Friday, NBC 9:00 p.m.) — Dark Magic might be required to save Bobo as an unknown force might expose the town's dirty laundry.
Hawaii Five-0 (Friday, CBS 9:00 p.m.) — A home invasion leads to an attempted assassination, so McGarrett flees with Joe White to Montana to fight against those seeking revenge.
Z Nation (Friday, SyFy 9:00 p.m.) — The hunt continues for the secret ingredient to bizkits with a militia raiding a mine for the recipe.
Crazy Ex-Girlfriend (Friday, CW 8:00 p.m.) — Grett's return causes Rebecca to question her deepest relationships, and a high-school reunion brings drama for Valencia and Josh.
Room 104 (Friday, HBO 11:30 p.m.) — The Duplass Brothers' anthology series airs two new episodes guaranteed to unsettle you.
Versailles (Saturday, Ovation 10:00 p.m.) — A three-season series comes to an end with Louis feeling invincible, all while France and his family stay divided. Louis then turns his attentions to his legacy and makes a voyage to Paris, where assassination may await.
God Friended Me (Sunday, CBS 8:00 p.m.) — The God Account's newest friend suggestion leads Miles to a single father with which he has much in common.
The Simpsons (Sunday, FOX 8:00 p.m.) — Black Friday fallout continues with Marge attempting to fix Christmas, but Homer has a surprise waiting.
The Flash (Sunday, CW 8:00 p.m.) — It's body swap time for Barry Allen and Oliver Queen, who must then investigate the timeline, but they botch the matter more thoroughly.
Bob's Burgers (Sunday, FOX 8:30 p.m.) — Angsty teens elbow into the normal sledding territory of Louisa, Gene, and Tina, and Bob tries to help Linda with her Christmas prep.
Charmed (Sunday, CW 9:00 p.m.) — Harry's guidance comes in handy after Mel begins to question the magical world, all while Macy's potential relationship may intervene with fate.
NCIS: Los Angeles (Sunday, CBS 9:00 p.m.) — A bank heist for a safe-deposit box leads to a massive investigation over a Navy contractor's consulting firm.
Family Guy (Sunday, FOX 9:30 p.m.) — The Pawtucket Brewery's new mascot may not go over well, an Peter comes to blows with Brian.
Rel (Sunday, FOX 9:30 p.m.) — Rel deals with conflict regarding his attending nurse and a prejudiced patient, and Brittany's ex-boyfriend is revealed as an awful rapper.
Ray Donovan (Sunday, Showtime 9:00 p.m.) — Roy must choose sides with Mac putting his cards on the table, and Anita's campaign complicates matters.
Dirty John (Sunday, Bravo 10:00 p.m.) — John's criminal record ends up in Debra's hands, while flashbacks reveal part of his past.
Sally4Ever (Sunday, HBO 10:30 p.m.) — Sally's on the rocks at work with a poor evaluation, all while she and Emma begin to consider having a baby.