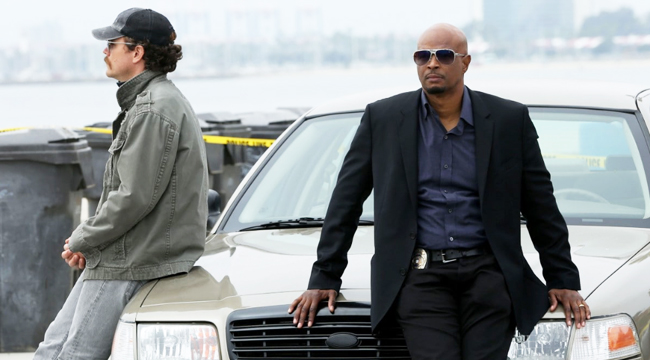 Lethal Weapon (FOX, 8:00 p.m.) — The Season 2 finale sees an apparent threat to Riggs' mortality amid his shifting relationship with Murtaugh. (UPDATE: Clayne Crawford, who plays Riggs, has been fired from the show.)
Roseanne (ABC, 8:00 p.m.) — A first-world calamity poises to strike as the Connor family struggles to pay their Wi-Fi bill, so they hatch a plan to borrow internet service elsewhere.
The Flash (CW, 8:00 p.m.) — Flash and his team must trust a new, unlikely ally, Amunet Black, while DeVoe makes progress on his Enlightenment device.
Blackish (NBC, 9:00 p.m.) — Tensions climb amid Junior's high school graduation while the estranged Bow and Dre take turns staying in the family house.
The 100 (CW, 9:00 p.m.) — A threat to Clarke and Madi's home threatens to unseat them while Bellamy looks for a new way home.
Rise (NBC, 9:00 p.m.) — Family drama abounds while Lilette waits for her mother's return and Robbie confronts his own mother's severe illness.
Splitting Up Together (ABC, 9:30 p.m.) — The school psychiatrist surprises Martin and Lena with feelings from Mae, who's leading in the school play, on their divorce.
The Middle (NBC, 8:00 p.m.) — The best Mother's Day gift ever could be a foot after Sue and Brick try to win a trip to London for the royal wedding.
The Voice (NBC, 8:00 p.m.) — Contestants continue battling on teams helmed by Adam Levine, Blake Shelton, Alicia Keys, or Kelly Clarkson.
Chicago Med (CBS, 10:00 p.m.) — A life-threatening case of the flu challenges Dr. Manning's skills, and some stolen pain killers could lead to trouble.
For The People (ABC, 10:00 p.m.) — A complicated friendship leads Jill and Roger to clash over a DEA raid, and Kate buries herself in a heartbreaking animal-smuggling case.
NCIS (CBS, 8:00 p.m.) — The subject of an old case appears to be seeking vengeance when an NCIS team member becomes a hitman's target.
NCIS: New Orleans (CBS, 10:00 p.m.) — A journalist's scathing article brings backlash to the team, who are accused of "reckless use of justice."
New Girl (FOX, 9:00 p.m.) — Nick's plans to propose to Jess gets botches, and Jess gets involved with Winston's impending fatherhood by finding his long-lost dad.
Bull (CBS, 9:00 p.m.) — The Season 2 finale rocks Bull's team after Elliot Miles is convicted in his murder trial, and they must save him from a death sentence.
LATE NIGHT GUESTS
Jimmy Kimmel Live!: Woody Harrelson, Sara Gilbert, Bazzi
The Tonight Show Starring Jimmy Fallon: Trevor Noah, Gabrielle Union, Chromeo ft. Dram
The Late Show With Stephen Colbert: Michael B. Jordan, Matt Walsh, Heather Pasternak
Conan: Eva Longoria, Luke Hemsworth