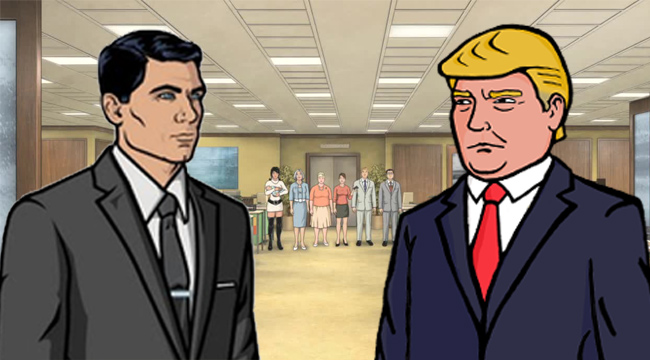 Donald Trump likes to slay in the boardroom but Sterling Archer is a bit less restrictive when it comes to where he gets down to business. Despite that difference (and a few others) both are well-traveled men with notable hair who prefer the feel of a fine suit and the company of a beautiful woman.
They also both have a unique way with words. Such a way that it's sometimes hard to know which mouth hole a phrase has fallen out of. So, with the seventh season of Archer set to debut March 31 on FX and Trump set to continue his effort to become the President of the United States (to either your horror or delight), it seems like a fun time to test you on whether these 10 quotes came from the over-the-top cartoon character… or Sterling Archer.
Go ahead, click who you think said it.
[protected-iframe id="6978e7548052f4c9b1fe68c6aa57b5b2-60970621-117515348″ info="https://cdn-ext-woven-woven.netdna-ssl.com/up-trump-archer/demo.php" width="100%" height="5600″ frameborder="0″ scrolling="no"]
If you got more Archer quotes right, you're a bad-ass… so go have a drink in the Danger Zone. If you knew Trump better, congratulations, you could become our next President of the United States.