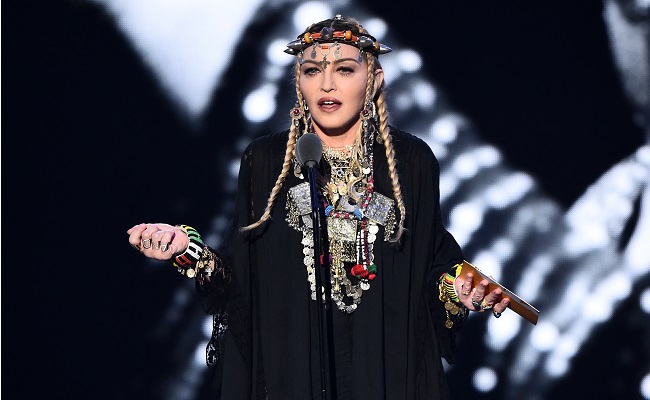 The 2018 MTV Video Music Awards were held at at Radio City Music Hall in New York City on Monday night, and we've already covered the full winners list and the best red carpet looks. But every awards show raises the same question. Can we snark about this from the comfort of our couch? The answer is always yes.
Not only were people making jokes, they were also… excited?
Sure, let's go with excited. And on Twitter, folks happily took the opportunity to make jokes, like putting a screengrab of Cardi B into a new context:
Or referencing various beefs:
But most of all, people laid into Madonna's tribute to Aretha Franklin ("featuring Madonna with Madonna as Madonna"). As was the case when Madonna eulogized Prince at the 2016 Billboard Awards, some people found her tribute lacking. The video is available at this link, and here's the full weird transcript (via Yahoo!) you can feel free to skip past and just read the jokes.
Aretha Louise Franklin changed the course of my life. I left Detroit when I was 18. Thirty-five dollars in my pocket. My dream was to make it as a professional dancer. After years of struggling and being broke, I decided to go to audition for musical theater; I heard the pay was better. I had no training or dreams ever, ever becoming a singer, but I went for it. I got cut and rejected from every audition. Not tall enough. Not blends-in enough. Not pretty enough, not enough, enough. Then, one day, a French disco sensation was looking for backup singers and dancers for a world tour. I thought, why not? I could go back to getting robbed, held at gunpoint and being mistaken for a prostitute in my third-floor walkup that was a crack house. I am a rebel, hard.
So I set up for the audition. Two large French record producers sat in the empty theater, daring me to be amazing. The dance audition went well. They asked if I had sheet music and a song prepared. I panicked. I overlooked this important part of the process. I had to think fast. My next meal was on the line. Fortunately, one of my favorite albums was Lady Soul by Aretha Franklin. I blurted out. "You make me feel… you make me feel like an actual woman." Two French guys shouted at me. "You know, by Aretha Franklin." They looked over at the pianist. [I said] "I don't need sheet music, I know every word. I know the song. I will sing it a cappella." I could see they didn't take me seriously. Why should they? Some skinny-ass while girl is going to come up here and belt out a song from one of the greatest soul singers ever, a cappella? I said, "Bitch, I'm Madonna." No, I didn't. Just kidding. I wasn't "Madonna" yet. I don't know who I was. I don't know what came over me.
I walked over and started. When I was finished, I was drenched in nerve sweat. You know what that nerve sweat? They said, "We will call you one day, maybe soon." Weeks went by. No phone call. Finally, the phone rang. It was one of the producers: "We don't think you are right for this job." "Why are you calling me?" He replied, "We think you have great potential. You are rough around the edges. We want to bring you to Paris and make you a star. We will put you in a studio, with the great Giorgio Moroder." I had no idea who that was, but I wanted to live in Paris and I wanted to eat some food. So, that was the beginning of my journey as a singer. I left for Paris, but I came back a few months because I had not earned the life I was living. It felt wrong. They were good people. I wanted to write my own songs and be a musician, not a puppet. I needed to go home and learn guitar. That is what I did. And the rest is history.
So, you are probably all wondering why I am telling you this story. There is a reason, because none of this would have happened, could have happened, without our lady of soul. She led me to where I am today. And I know she influenced so many people in this house tonight. In this room tonight. And I want to thank you, Aretha, for empowering all of us. R-E-S-P-E-C-T. Long live the queen.
Twitter users also took shots at Post Malone, who performed with Aerosmith and may have taken Video Of The Year winner Camila Cabello's breath away (but not at the same time).
And finally, people looked at performers like Noah Cyrus and her boyfriend Lil Xan and decided, "Welp, I'm old now."
(Hat tip to Yahoo!, Buzzfeed, The Hollywood Reporter, and Variety)