Adidas is showing off a new colorway of James Harden's signature shoe in time for a special day on the horror calendar. The Harden Vol. 2 'Nightmare' colorway is a triple-black version of the latest signature from the presumptive Most Valuable Player.
The Vol. 2 debuted in February as part of All-Star Game festivities in Los Angeles, and adidas has slowly added more looks to the signature shoe in the months that followed. The latest is a Friday the 13th-inspired black-on-black look that
The campaign vaguely references his brutal cross-up three after a lengthy staredown of Wesley Johnson that will likely go down as the NBA regular season's signature moment. The shoe is said to be inspired by Harden's ability to "strike fear" in a defender.
Having problems sleeping at night? Afraid of busted ankles, the stare down and BBQ chicken? Fear the beard? For any defender in the game, James Harden is the ultimate nightmare. If you too are tired of the league's most lethal crossover keeping you up at night adidas has the antidote – the Nightmare colorway of James' Harden Vol. 2 signature basketball shoe.
"The way James plays his game demands a type of shoe that can keep up with his unexpected step-backs, Eurosteps, and stare downs," Rashad Williams, senior footwear designer at adidas said. "This shoe's custom design and triple black colorway combined with James' performance the past few months really allowed us to have some fun with this Nightmare campaign and play up the fact that he's been dropping opponents all season."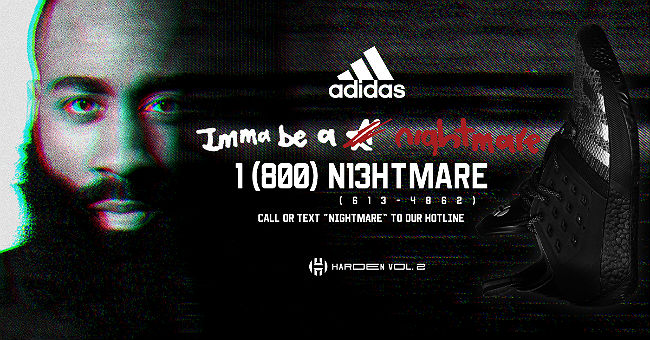 The Nightmare colorway is available on adidas.com starting on Friday and in stores on April 14. But those willing to take part in the promotion can call a special "Nightmare hotline" to get a pair for themselves.