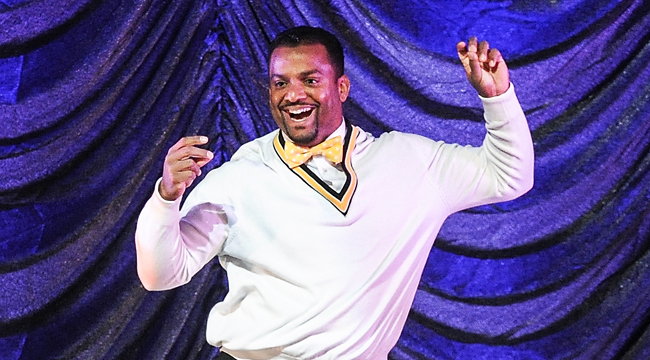 Look out video game makers, Carlton Banks wants what's his. More specifically, actor and game show host Alfonso Ribeiro is suing a pair of video game makers for using a dance he made famous on an episode of The Fresh Prince Of Bel-Air without his permission.
You know the one: it's named after his nebbish yet endearing character on the long-running 90s sitcom that starred Will Smith. The Carlton is instantly recognizable, even if it first premiered more than two decades ago in a 1991 episode called "Will's Christmas Show."
Ribeiro actually brought it out in 2014 when he was on an episode of Dancing With The Stars, and it's commonly thought of as his dance. Which is why he's suing two major video game makers — Epic, which makes the wildly popular Fortnite, and Take-Two, which produces NBA 2K — for creating digital versions of his dance without his permission.

"It is widely recognized that Mr. Ribeiro's likeness and intellectual property have been misappropriated by Epic Games in the most popular video game currently in the world, 'Fortnite,'" David L. Hecht, a partner at Pierce Bainbridge Beck Price & Hecht LLP, told Variety in a statement. "Epic has earned record profits off of downloadable content in the game, including emotes like 'Fresh.' Yet Epic has failed to compensate or even ask permission from Mr. Ribeiro for the use of his likeness and iconic intellectual property. Therefore, Mr. Ribeiro is seeking his fair and reasonable share of profits Epic has earned by use of his iconic intellectual property in 'Fortnite' and as a result is requesting through the courts that Epic cease all use of Mr. Ribeiro's signature dance."
Fortnite, as you know, is often as much about dancing as it is about outlasting everyone in a battle royale to win bragging rights. This is what The Carlton looks like in video game form.
According to the complaint, that version of the dance and another one that appears in NBA 2K18 have helped the companies profit off of Ribeiro's "creative expression, likeness, and celebrity" without his consent and without compensation. Meanwhile, Variety also notes that Ribeiro isn't the only celebrity and celebrity-adjacent suing video game makers for using their moves without notice. Brooklyn rapper 2 Milly is suing for the Milly Rock dance he created.
2 Milly filed his suit against Epic Games earlier this month. It claims the game developer misappropriated the "Milly Rock" — a dance he created for a 2014 music video. Epic added a very similar dance emote to "Fortnite" during its fifth season called "Swipe It." Epic never asked for his permission or compensated him, 2 Milly said. He's now filing another complaint against Take-Two Interactive, which also uses the Milly Rock in "NBA 2K18."
And, yes, even "Instagram Personality" Backpack Kid has also filed suit. You know Backpack Kid from flossing, of course.
Instagram personality Backpack Kid is also filing complaints against the two publishers over their use of his dance called "The Floss." He famously performed it with Katy Perry during the song "Swish Swish" on an episode of "Saturday Night Live." Two days later, Inside Edition published an interview with the teen. That video has received more than 53 million views to date.
Whether there is a case here is tough to say, but it's yet another front in a growing battle of intellectual property rights in video games. Tattoo artists with their artwork perfectly replicated on NBA players are having similar, if less viral, battles playing out in court right now as well. It's just one of those things that just doesn't have any legal precedent yet, but it's certainly coming. And fast.