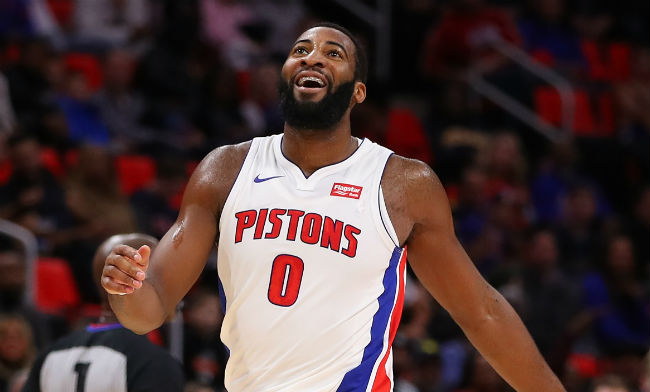 If you're keeping score at home, we're now officially into a second round of snubs if you're not a member of an NBA All-Star team. The initial snub came to fruition when the full rosters were announced, but a rash of injuries has given us a new chance for players to feel like they didn't get the nod despite All-Star caliber play.
The latest example came Tuesday night, when Detroit's Andre Drummond was announced as a replacement for injured All-Star John Wall. LeBron excitedly welcomed Drummond to his team before the game on Tuesday, but some members of the NBA world responded to the announcement with a bit more skepticism. Both Ben Simmons and Jaylen Brown appeared to react to the news of this "snub" on Twitter, which was covered extensively in the basketball world. One of those posts summarizing the reaction was later seen by Drummond himself.
Not only did Drummond like the post, he commented on it arguing that Brown shouldn't even take this as a snub.
For what it's worth, Drummond has averaged 14.8 points, 15.3 rebounds and 3.9 assists per game this season. Brown, meanwhile, has put up 14.1 points, 5.5 rebounds and 1.4 assists in his sophomore season with the Celtics. There's much more to basketball than those three statistics, of course, but Drummond is also correct in that he's a much bigger contributor to the Pistons overall than Brown is in Boston.
There is, of course, another opening in the Team LeBron roster with the injury to Kevin Love, but it sounds like Drummond would argue Ben Simmons is the more likely replacement there. And if not, there will be quite an interesting conversation between Drummond and Brown in Los Angeles during All-Star Weekend.