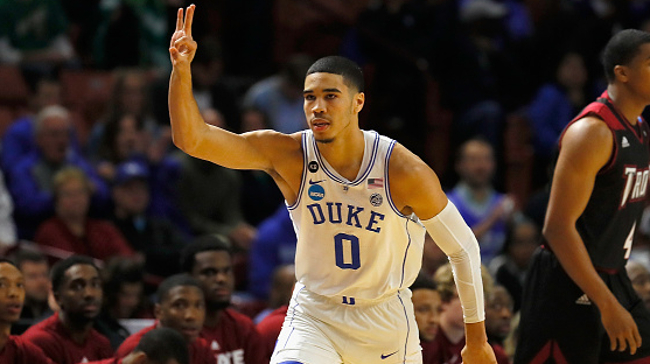 The Boston Celtics set the NBA world on fire over the weekend after a report emerged that they were swapping their No. 1 pick in this summer's NBA Draft with the Philadelphia 76ers for the No. 3 pick and other future assets.
With an All-Star point guard in Isaiah Thomas already in tow, Boston made clear that they're willing to let both Markelle Fultz and Lonzo Ball slip their hands, if necessary, presumably in favor of leveraging some of those assets to swing a larger deal for a more established star.
But according to a new report, the Celtics might have something else in mind entirely.
Vastly over-exaggerated comparisons aside, Duke's Jayson Tatum would offer Boston an athletic wing-man who could potentially help alleviate some of the scoring load for Thomas. They might also have their eye on Kansas' Josh Jackson.
Of course, everything the Celtics do at this point has to be in service of trying to solve the never-ending puzzle of LeBron James, and although either of these guys could potentially evolve into capable defenders, it's difficult to imagine them making a significant impact in the short term.
So much will depend on whether Boston can successfully finagle their assets to add a bigger superstar to the mix, which seemingly appears to be the route they'll explore first.