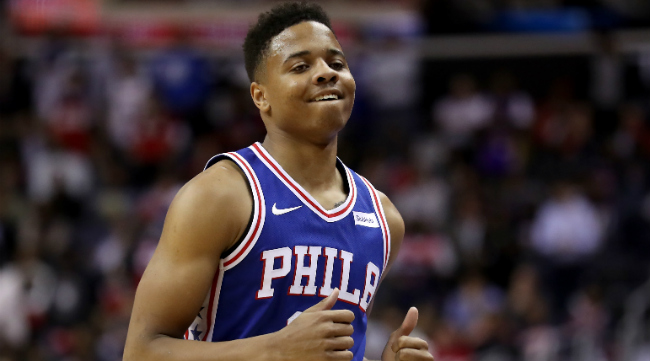 The Philadelphia 76ers are a week away from having to make a pair of first round picks in the 2018 NBA Draft, holding the No. 10 and No. 26 overall selections. They'll have to make those choices in the midst of a front office upheaval after former general manager and president of basketball operations Bryan Colangelo resigned following a scandal involving burner Twitter accounts operated by his wife.
Making a front office change this close to the draft is far from ideal, and in the meantime, head coach Brett Brown will handle the basketball operations side of things. With Brown as the chief decision maker for now until a hire is made, it will be interesting to see how the Sixers will approach this draft and the more important summer of free agency after taking a major leap this past season.
The Sixers will look to upgrade their roster with the max contract cap space they have, whether adding a superstar like LeBron James or Paul George or by simply signing a couple of quality veterans to add to their stellar young core. One of the more interesting aspects of the Sixers roster moving forward, no matter who they add in free agency, is the development of Markelle Fultz after a very strange and difficult rookie year.
Fultz was the No. 1 overall pick in 2017 and famously battled a shoulder issue for much of the year that saw him go through a disastrous transformation of his jump shot that he is still trying to rebuild. If he can regain that form, he still could prove to be the dynamic playmaker they hoped they were getting in the draft, but it wasn't as if there weren't concerns from some within the organization ahead of his selection.

According to The Ringer's Kevin O'Connor, some in the Sixers front office suggested they look seriously into Lonzo Ball and Jayson Tatum after Fultz had a rough workout in Philadelphia. However, Colangelo was insistent after having traded up to the No. 1 pick that Fultz was the guy and he wouldn't consider alternative options.
It was a decision praised at the time, but after Fultz struggled in his workout with the Sixers last June, league sources say some Sixers front-office members suggested that despite making the trade, the team should have taken a second look at Tatum or Lonzo Ball. But the idea was shot down by Colangelo, according to sources. Fultz was the choice. There was no turning back.
It's easy to look back one year later and be skeptical of the Fultz pick, and it's very possible that he turns things around and makes Colangelo look better as his career goes along. That said, the unwillingness to reconsider their choice for the No. 1 pick isn't a great look especially if there were red flags that emerged during Fultz's workout.
Hopefully, Fultz can come back healthy and both physically and mentally ready to play this fall and be a contributor to one of the league's up-and-coming teams. However, if Ball and Tatum continue to develop the comparisons between the top players of the 2017 draft, fairly or unfairly, will not stop.
(Via NBC Sports)