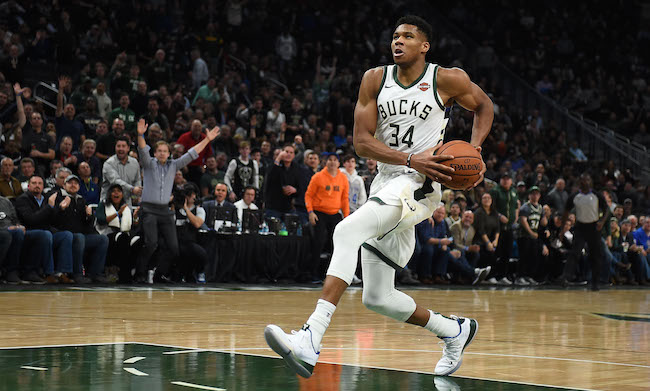 The Milwaukee Bucks are the last undefeated team in the NBA after they beat the Kawhi Leonard-less Toronto Raptors on Monday night in a game that Giannis Antetokounmpo also missed. At 7-0, the Bucks have exceeded even the loftiest expectations for the start of the season, and they're doing so thanks to MVP-caliber play from Antetokounmpo (which was expected) and a complete buy-in to new coach Mike Budenholzer's system.
Anyone who saw what Budenholzer did in Atlanta figured the Bucks would be improve on offense due to an emphasis on pace and space (one of Bud's favorite phrases), but the Bucks have gone through a more dramatic change in play style than most could've reasonably expected this early on.
Like so many other teams in the league, Milwaukee has placed an emphasis on playing with more tempo. The Bucks are taking 8.6 more field goal attempts per game this season than last year, when they were 28th in the league in shot attempts per game (17th this year, illustrating the insane shooting output of teams early this season). More important than getting up more shots is that Milwaukee is getting up more good shots from the most valuable areas of the floor: three-pointers and shots at the rim.
On the season, they've attempted 282 three-pointers (just over 40 per game) and 229 shots in the restricted area, which makes up 79.8 percent of their shot attempts for the season. Last year, threes and restricted area shots accounted for 64.4 percent of their shot, and you can see the difference in shot selection on the shot charts between the two years.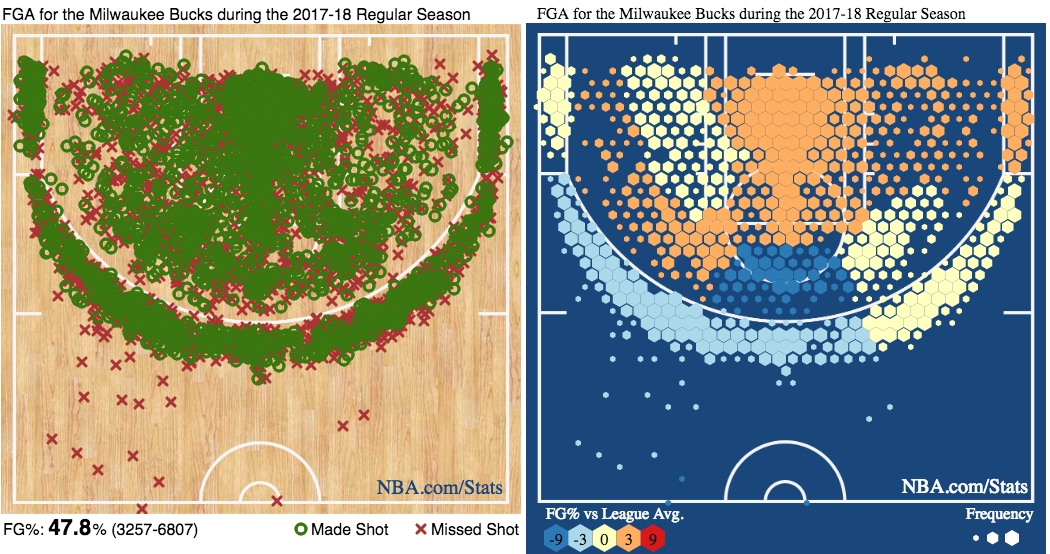 While every team in the league is trying to get closer to that kind of shot distribution, not everyone executes to the level of the Bucks this year, both in taking advantage of getting shots in those areas and getting clean looks from those hot spots. Some of it is purely based on the scheme and Budenholzer's ability to draw up easy buckets out of timeouts, something he was always fantastic at in Atlanta and has continued to do in Milwaukee as evidenced by this gorgeous play out of a horns look on a sideline out of bounds play for a lob to Donte DiVincenzo.
That play works because of the space on the floor and the lack of an interior defender, because they have to respect shooters on the perimeter and be ready to help on a pick-and-roll or dribble-handoff play with John Henson involved at the elbow. However, the Bucks' new emphasis on three-pointers has the added benefit of helping to open up the shots at the rim, where they've improved from an impressive 64.5 percent shooting rate in the restricted area last year to an incredible 69.4 percent this season.
No one has been a bigger beneficiary of this than Antetokounmpo, who has gotten 56 percent of his shots inside three feet this season and is shooting 74.2 percent on those attempts. That conversion rate is on par with his effectiveness in that area last year, but in 2017-18, only 45 percent of his attempts were in the restricted area. Part of the reason for that uptick is the spacing that Antetokounmpo gets from playing with Brook Lopez, who was acquired in free agency and has been turned into a three-point shooting machine in Milwaukee.
Lopez is averaging 6.3 three-point attempts per game (more than double his two-point attempts at 2.9 per game) and is hitting at a 38.6 percent clip. Thon Maker is also taking more threes (2.3) than twos (1.7), and even John Henson has expanded his range to the three-point line this season, averaging 1.9 attempts from distance and hitting 38.5 percent of those in an admittedly small sample size. What that means is Antetokounmpo suddenly has significantly more room to operate one-on-one, either facing up or backing a defender down, because opposing big men have to respect the Bucks' centers standing beyond the three-point line.
Against the Magic, the conundrum facing Bucks opponents was apparent as on multiple occasions. The help defense arrived late, leaving Aaron Gordon on Giannis Island to get cooked. On this particular play, Antetokounmpo brings the ball up with all four other Bucks spacing the floor at the three-point line, allowing Giannis to turn down a screen and drive by Gordon for a dunk. Mo Bamba was afraid to leave Lopez in the corner, causing him to rotate late when Antetokounmpo was already taking off.

When that defender does collapse on Giannis drives, the Bucks star has been great at finding the open man in the corner to bury a triple, like here when three Timberwolves defenders tried to meet him at the rim.
The Bucks didn't make a ton of splashy moves this summer, but they acquired big men that can space the floor in Lopez and Ersan Ilyasova, essentially allowing them to play four-out with Giannis and the point guards attacking the paint to take advantage of that space. That point guard position was a question for Milwaukee entering the season given the poor playoff performance of Eric Bledsoe, but he's been rejuvenated by the new offense and looks like the player the Clippers and Suns hoped he could become, operating as the Bucks' primary facilitator with 6.9 assists per game and taking advantage of that spacing to score at the rim.
Beyond Giannis, there might not be a player that looks better in the Bucks' new offense than Khris Middleton, who is shooting 54.9 percent from three on 7.3 attempts per game. Middleton made a major leap last year into being a legit secondary star alongside Antetokounmpo, but the added spacing and weapons around him have opened up his game even more.

Middleton's shot attempts overall are down from last year because the shot distribution is more even in Milwaukee, but his efficiency is way up and the counting stats are all just a tick higher than a year ago despite 2.5 fewer attempts per game and a slightly lower usage. Middleton is the yin to Antetokounmpo's yang, and in a new three-point happy system, he's flourishing.
The Bucks will undoubtedly go through some rough patches this season, because every team in the league that's not the Warriors will, but the foundation that's been laid already has been wildly impressive. The Bucks are operating like the best version of Budenholzer's Hawks teams, namely the 2014-15 group that won 60 games and the top seed in the East.
That Atlanta team got swept by LeBron James and the Cavs, but this Bucks squad has something those Hawks never did: the best player in the East. That used to be LeBron, which is why the Hawks never could even come close to toppling the Cavs with their ball movement and shot-making. In the playoffs, that can dry up and you need someone that can take the ball and get a bucket. With all due respect to Jeff Teague, Al Horford, and Paul Millsap, Budenholzer's never had that.
With Antetokounmpo, he does, and that makes this Bucks team terrifying. They execute Bud's offensive vision tremendously already, but when push comes to shove, they can just let Giannis do what Giannis does. That's always been something Milwaukee could toss out, but in the past, that's been their first, second, and third option.
Now, the team can balance between playing gorgeous team ball and letting a superstar be a superstar, and it's what makes the Bucks a legitimate threat in the East this year.