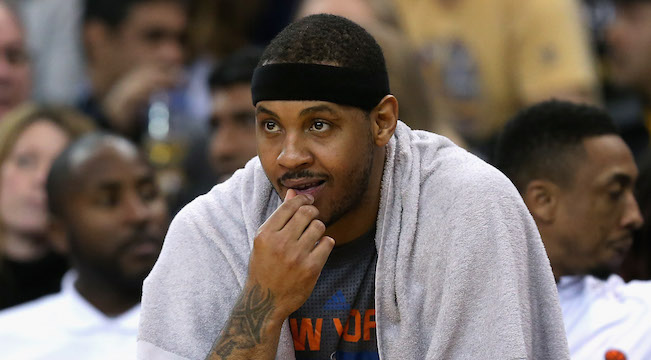 Thursday's NBA trade deadline came and went, and after all the dust settled the New York Knicks looked exactly as they did prior to the All-Star break. For all the efforts of Phil Jackson to push Carmelo Anthony out of town and try to send Derrick Rose to the Timberwolves, the Knicks were among the many teams that did nothing at the 3 p.m. deadline.
It was clear by the All-Star break that nothing would be happening with Anthony and his no-trade clause, and there wasn't even so much as a whiff of a rumor about conversations involving him all week leading up to the deadline. The efforts to unload Rose on the Timberwolves stalled out late and even a last ditch effort to do a point guard swap and take on just Ricky Rubio failed to materialize. The lack of moves by the 23-35 Knicks was disappointing to fans and also a bit confounding to the players.
Anthony spoke with ESPN New York's Ian Begley after the deadline, and noted that he had no idea what the Knicks front office was trying to do when asked if he understood management's vision for the future.

"No, not now. No, to be honest with you," Anthony said. "I think they were kind of planning on the trade deadline, whether they were trying to make moves. I think that was one plan. Now they've got to get back to the drawing board and come up with another plan about the future of this team."
It's a blunt, honest answer from Anthony who is the rare player in a position of power where he can be critical of management without having to worry about consequences of possibly being moved because of his no-trade clause. As for that clause, Anthony told Begley he was never approached with a formal trade offer by the Knicks. He also noted it can be frustrating for everyone when they don't know what the plan is at the trade deadline.
"Yeah, I mean, nobody likes to be in limbo," Anthony said. "We all want to know kind of what's going on, especially when it's involving you. But that's not the way it is in sports. I don't think I'm the only one that's going through that or feeling that way."
The Knicks will finish this season with the roster intact, for better or worse, and have to find a way this offseason to make improvements. Derrick Rose's contract will be up, but he's the only major money coming off of the books in New York this year, as four of the five biggest contracts on the Knicks are signed through next season (with three signed through 2020).