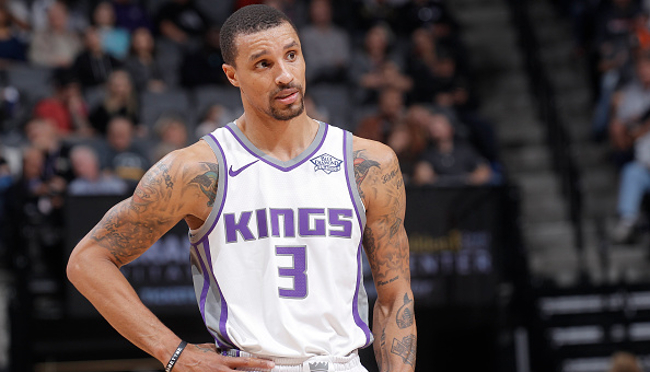 The Cavs' inter-organizational turmoil the past few weeks has reached critical mass. Amid a losing slump that culminated in alleged locker-room discord between multiple players, the front office has been actively trying to assemble viable trade packages prior to next month's deadline to shore up an aging and oft-injured roster.
Last week, ESPN's Brian Windhorst reported that the Cavs were "on the one-yard line" in a prospective deal to land George Hill from Sacramento in exchange for Iman Shumpert and Channing Frye (and possibly other future assets). But those talks have cooled significantly since then, if not totally fallen apart.
It's now emerged that Hill's justifiable reluctance to forego a certain level of future financial stability might be at the heart of the impasse. On Tuesday, Windhorst and Ryan Hollins appeared on ESPN Radio and after some initial trepidation on Windhorst's part, he shed light on what's ultimately holding up the deal.

"So George Hill, they didn't want to buy him out this year," Windhorst said. "What they wanted to do was protect themselves in the event that, if LeBron James left, whether George Hill would be willing to take a buyout on the $20 million he's owed on his contract after this season. So, I wasn't going to put that out there, but the Ryan Hollins, you're going to be reporting stuff, there you go. That was a factor."
Again, it's perfectly understandable on Hill's part. He certainly isn't eager to jeopardize guaranteed money through next season, especially given LeBron's tenuous situation in Cleveland as he prepares to hit free agency next summer.
However, there's still plenty of time between now and the February trade deadline. Whether either side is willing to budge will be lingering question until then.