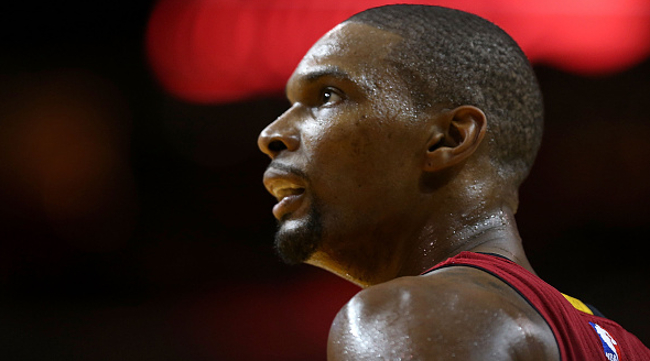 The worst part about Chris Bosh's inability to play basketball, at least from a hoops perspective, is that his game would be a perfect fit in the modern NBA. Bosh was a crafty big man who had the ability to stretch the floor, and if he was suiting up now, it's safe to say that he could be a devastating frontcourt option for any team.
Of course, that doesn't seem like it's going to happen any time soon, as Bosh is still in the midst of his forced retirement due to issues related to blood clots. There has been plenty written about his efforts to make it back into the league, namely how Bosh believes his career isn't over and that he believes he can still contribute.
In a new piece by Jackie MacMullan of ESPN, Bosh explained how he actually has struggled to watch basketball for some time. This is because Bosh, like everyone else, understands that his game would thrive in the league's current climate, even going as far as to say he sees people doing stuff that he did in his career.
"They don't understand," Bosh says. "I watch the whole small ball thing and say, 'Damn, I worked my whole career to play in an environment like this. These are my skills. These are my moves.'

"But I can't use them. And that's why I couldn't even watch or talk about it for a while."
It's a brutal thing for Bosh to experience, because the fact of the matter is that he was something of a prototype for many of the big men that currently populate the NBA. As for his chances of making it back into the league, well, things don't look great. MacMullan spoke to executives who made it sound like there's not a lot of interest in Bosh right now.
"If he was healthy, he'd be playing for the Miami Heat right now," one GM told MacMullan. "The fact they determined it was not an option makes me say we're not going there."
While MacMullan did say that there'd be a "clamor" to acquire him if he was healthy, there's just too big of a risk. Who knows if that will change going forward, but for now, it's hard to see a path back into the league for Bosh.
(Via ESPN)