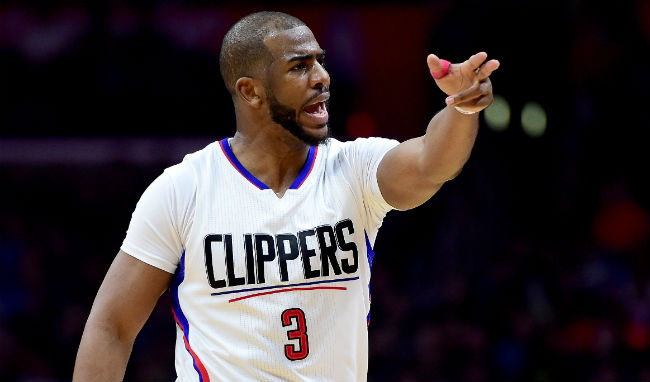 Chris Paul has the numbers—and the finger injuries—to prove he's one of the game's best at stealing the basketball.
Paul is the active leader in steals in the NBA, a fact chronicled in a New York Times piece about the art—and consequences—of the steal. Paul sprained his left thumb in preseason and later tore his ulnar collateral ligament in January, missing 14 games.
That injury wasn't a break, which is something he's already done in his career. The Los Angeles Clippers star has also torn both the UCL and RCL ligaments and broken a finger. The injuries, he said, have left him second-guessing whether to go for steals at this point in the year.
Few people on the planet have firsthand knowledge of the difference between R.C.L. and U.C.L. tears. Paul is one of them. (They both hurt, he said.)

As for his most recent injury, Paul missed 14 games before he returned late last month. Even now, with the Clippers vying for playoff position, he is trying to regain his feel for the game.

"I see plays all the time where I know I can reach for the ball and I know I can steal it," he said. "But it's like risk versus reward: Do I go for it?"
Despite saying "I've got the worst fingers," when describing his mangled and oft-broken hands, Paul still got high praise from many in the piece including head coach Doc Rivers, who said with quick hands like that he "could have been a boxer."
"Gifted," Rivers said. "His hands are so damn quick."
Paul now says he's "just trying to keep my hands out of the way" as he regains strength in them and tries to stay healthy.
He also said when he jams his fingers or gets his hands hurt, he'll get a message from Golden State Warrior Matt Barnes. The two, apparently, have bonded over getting their fingers mangled throughout their careers.
One other interesting fact in the piece was his pick for best hands he's seen in his career. The winner? Brevin Knight, who retired in 2009. Who knew?