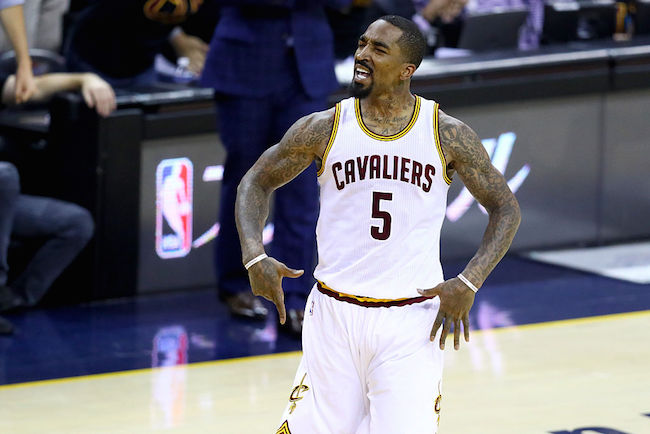 Drafted straight out of high school into the NBA, J.R. Smith has had a rather up and down career. This is largely due to Smith's fair share of follies, which have happened both on and off the court. But now with the Cleveland Cavaliers, Smith has settled into the perfect role and is a key part of the team's success in the past few years. Part of that success includes winning a championship in 2016, something that at one point in Smith's career seemed rather unlikely of happening. Given Smith's journey, it only makes sense that he would question Tracy McGrady's recent head scratching statement about making the Hall of Fame.
McGrady's Hall of Fame credentials shouldn't be doubted, but he told reporters on Saturday that, "Anybody can win a championship. Everybody can't get in the Hall of Fame." The Hall of Fame is indeed more of an individual accomplishment while a championship is more of a team feat. Yet McGrady's statement really rubbed Smith the wrong way, which is why he took to Twitter to ask his millions of followers about the soon-to-be Hall of Famer's claim.

Smith quickly got plenty of responses and even supported one answer he got that pointed to how it appears that the Hall of Fame — which covers all of basketball, not just the NBA — inducts literally everyone these days.
Considering how Smith used to play, it is kind of wild that he's the one that is complaining about McGrady's focus on his own personal accomplishments. But Smith has become a total team player later in his career with the Cavs and has reaped the benefits of winning a championship by doing so. Smith understands the individual sacrifice it takes to win a championship, something that McGrady clearly knows nothing about.