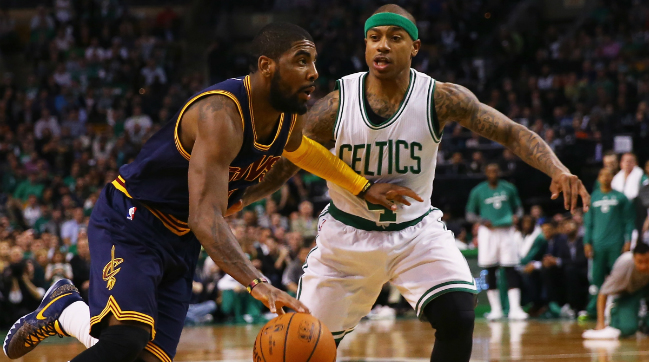 The Cleveland Cavaliers and Boston Celtics may head back to the negotiating table as they look for a resolution to the Kyrie Irving trade. After Cleveland got the chance to discuss what it found when it gave Isaiah Thomas a physical, ESPN's Adrian Wojnarowski reports that the team will ask Boston for more in return.
The deal, as it currently exists, would send Irving to Boston for Thomas, Jae Crowder, Ante Zizic, and Brooklyn's unprotected first round pick in the 2018 NBA Draft. While some may argue that the pick is the biggest piece the Cavs will receive, the team was reportedly worried by what it saw when it looked at Thomas' injured hip on Friday.
According to Wojnarowski, Cleveland sounds like it's going to want to get more back from Boston. If that doesn't happen, we could see this deal blow up.
Without revisions to the original trade agreement, the Cavaliers could threaten to veto the trade, league sources said.

The Cavaliers' stance could trigger a standoff between Cleveland and Boston officials, forcing both organizations to weigh the consequences of letting the blockbuster trade implode.
Wojnarowski also noted that while the Cavaliers "coveted" Jayson Tatum, the Celtics refuse to give the No. 3 pick fro the 2017 Draft up. Assuming that doesn't change, Boston has a number of future first-round picks and some other young pieces it could potentially include to try and sweeten the deal.
This is an extremely volatile situation. Wojnarowski makes it sound like blowing up the deal is a very real possibility, and if that happens, it might be disastrous for both teams — Cleveland isn't getting a better piece back for Irving than the Nets pick, while Thomas returning to Boston after all of this would be incredibly awkward. Both of these teams have an incentive to make a deal happen, but if it blows up, this may go down as one of the more interesting NBA "What Ifs?" in recent memory.