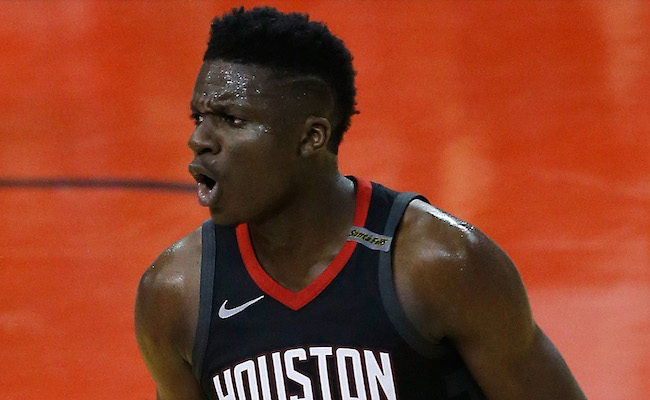 After a whirlwind of activity in the early portion of July, the vast majority of top-tier NBA free agents have new (or renewed) homes around the league. However, Clint Capela is not among the players that have agreed to new contracts, as he joins Jabari Parker and Marcus Smart (among others) as restricted free agents that are twisting in the wind at this juncture in the process.
Speculation has been rampant as to what Capela might be able to command on the market, particularly on the heels of a tremendous season with the Rockets in 2017-2018. However, only a few teams have the requisite salary cap space to really make the Rockets sweat in terms of an offer sheet and that could spell trouble for Capela's overall market.
In fact, Jonathan Feigen of the Houston Chronicle brings word that the first offer made by the Rockets on July 1 was for a lower annual value than many might have anticipated.

Capela may not be a full-fledged superstar but he happens to be the best available player on the market. With that as the backdrop, a deal in the $17-18 million range may appear reasonable but, in the same breath, Capela is a player that could reasonably believe he has more value than that. In addition, Capela brings a rare combination of production and youth (24 years old) and, perhaps more importantly, the Rockets are a team attempting to contend right now, placing the organization in a different position than that of a typical team.
Houston has allowed, or at least failed to stop, both Trevor Ariza and Luc Richard Mbah a Moute to slip away in free agency and the team's margin for error is small as a result. Of course, the Rockets have the trump card in the ability to match any offer but, when comparing this particular offer to other deals around the league (i.e. a recent deal for Evan Fournier at 5 years and $85 million), it is easy to see why Capela wouldn't jump at the chance to sign on the dotted line.
Among teams with big-time cap space, the Hawks and Kings could conceivably make runs at Capela but, with the looming sentiment that the Rockets are likely to match, there may not be much upside to that maneuver. In the end, this could be a situation that remains at a standstill for a while, especially if Houston elects to inflict maximum pain by simply drawing a line in the sand.