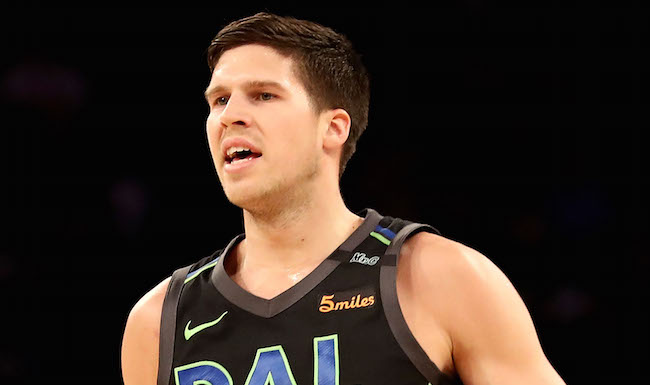 The Dallas Mavericks appear to be preparing to make a major push for a free agent big man this summer, as they shuffle around roster pieces to add a top flight big to go with their young backcourt/wing rotation headlined by Dennis Smith Jr., Harrison Barnes, and Luka Doncic.
On draft night, Rick Carlisle noted that they would look to address their need in the frontcourt on July 1, not so subtly hinting that a big move could be coming. The Mavs have since been linked to a pursuit of DeAndre Jordan once again, either by way of trade if he opts in to his option with the Clippers or on the free agency market. There have also been some that have postured they could be among the teams in play for DeMarcus Cousins, should the Pelicans balk and not offer him a full max.
In their effort to clear as much cap room as possible, the Mavs have pulled their qualifying offer to Doug McDermott, making him an unrestricted free agent and removing the $10 million cap hold that he would have taken up, according to ESPN's Zach Lowe.

As Lowe notes, the Mavs would like to try and bring McDermott back but would need to be under the cap to do so and by making him unrestricted they run the risk of him going elsewhere. After a solid season in which he shot 42.6 percent from three-point range, McDermott could be an intriguing option for teams searching for a forward that can stretch the floor and there should be interest for him on the market even if there aren't a lot of teams with tremendous amounts of cap space.
As for the Mavs, this gets them that much closer to a possible max spot. As they can continue renouncing rights to players like Nerlens Noel and others to remove cap holds and inch closer to having significant space (the most space this side of L.A.) to make runs at some of those big names.