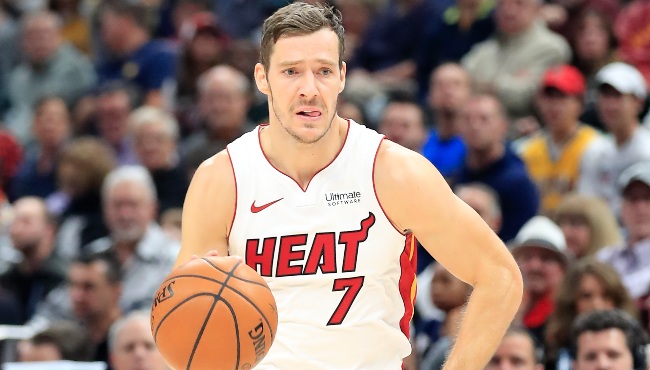 The Philadelphia 76ers, as expected, were very active on Sunday as the moratorium period began, officially opening NBA free agency.
They re-signed Tobias Harris to a near-max deal, which many anticipated, and ended up executing a sign-and-trade to send Jimmy Butler to the Miami Heat, netting Josh Richardson in return. With the extra space they had from that trade, they inked Al Horford to a big four-year deal to create a robust frontcourt, and retooling to once again be a contender in the East.
There was one piece missing from the Butler trade, however, to make money work in Miami, and shortly after the deal was reported on The Jump, Rachel Nichols relayed information from Ramona Shelburne that Goran Dragic would be headed to Dallas to make it a three-team deal. Shortly after that, Brad Townsend and Tim Cato confirmed that report.

As Cato noted, Doncic and Dragic are close as the only two Slovenians in the league and former roommates on the road with the national team. However, after that deal was reportedly all but done, things changed. Marc Stein of the New York Times reported Kelly Olynyk and Derrick Jones Jr. will go to Dallas, not Dragic, as the Mavs opted to keep their cap flexibility more open rather than take on Dragic's deal.
Shams Charania confirmed the change in plans, and later Ramona Shelburne spoke to Dragic's agent about what happened.
https://twitter.com/ShamsCharania/status/1145518364326072322

As if it weren't bizarre enough for so many prominent reporters locally to confirm a deal and have it change that dramatically, things completely fell apart later on Sunday night, per multiple reports.
Now the Heat will need to find a different team that is willing to take on Dragic's contract to make the Butler deal work or to be willing to give up the package the Mavs insist it was supposed to be all along. There are few teams with the space to absorb Dragic, but the Knicks could be a possibility. In any case, this has been rather unbelievable, but with the Sixers adding Al Horford all parties will have to get it together or Butler will have to seek out a new team.
As Marc Stein and Shelburne report, the two sides are very motivated to get this deal done soon, but it is Dragic that is the player the Heat are determined to move.
With the Clippers getting a deal done with Patrick Beverley, and Dallas apparently bowing out of talks over not wanting Dragic as he'd clutter up their other plans, that would leave the Lakers and Knicks as the only possible suitors that could take him into space. L.A. seems like the coziest fit if they fail to land Kawhi Leonard, but if Leonard chooses the Lakers, things could get very interesting with regards to this sign-and-trade that has become a fiasco.