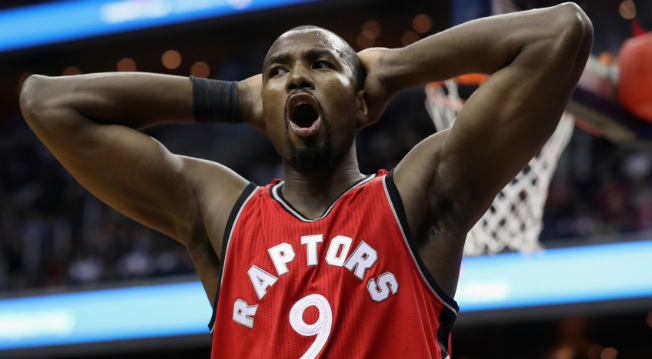 Serge Ibaka is no longer the insane shot blocking force he was earlier in his career. At his peak, Ibaka was anchoring the Oklahoma City Thunder defense, averaging nearly four blocks per game. He's at 1.4 blocks a night on the season right now, but every once in a while, Ibaka reminds fans why he was so terrifying earlier in his career.
During Toronto's game against Phoenix on Tuesday night, Suns big man Alex Len came into the lane and tried to get two points via a hook shot. Ibaka was right there, though, and told him that was not going to work. The veteran big man went up, and blocked Len's shot into the waiting hands of Kyle Lowry despite falling down.
The best part of this, though, was that Ibaka celebrated by doing the Dikembe Mutombo finger wag. That's usually great on its own, but what made this so special was that Mutombo was sitting courtside and loved seeing this out of Ibaka.

For how frequently older players get upset at things the current generation of NBA players do, seeing something like this is always really cool. It is also great that players are have been eager to bust out Mutombo's finger wag, as Ibaka and LeBron James have both done it within the last week. More basketball players should swat away shot attempts by their opponents and then wag their finger like they are Dikembe Mutombo, because that is extremely good.