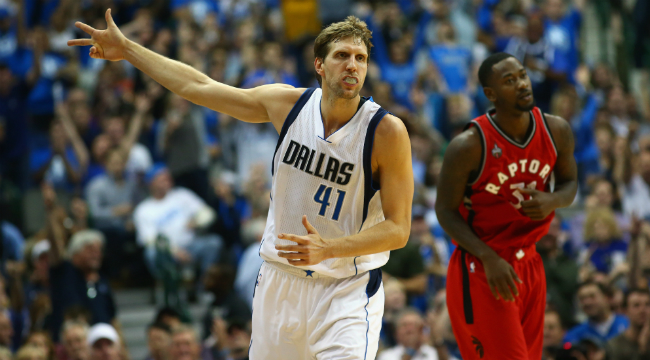 The Mavericks declined their team option on Dirk Nowitzki in order to clear cap space and work out a more team-friendly deal as they look to re-sign restricted free agent Nerlens Noel, among others, to continue their rebuild. The 39-year-old Nowitzki might not be part of the Mavs' long-term future, but the legend will be welcome to continue his career in Dallas for as long as he wants, provided he's willing to make some financial concessions.
Dirk might not be what he once was as a dominant MVP candidate, but he's still a strong offensive player and will be for as long as he can find his spot for his trademarked turnaround fadeaway. Nowitzki's $25 million option was declined earlier in June, and according to ESPN's Tim MacMahon, his new deal will be a massive pay cut.
The deal saves the Mavs $20 million next season, which can go towards fitting in Noel and possibly others. It's a massive concession from Nowitzki who has stated previously that he doesn't ever see himself playing in another uniform. It was reported previously that if Nowitzki signs for the room exception ($4.3 million) he would give Dallas $21 million in space and this deal is very close to that. The team option for next season once again gives the Mavs a chance to clear space to target free agents should they need it, or bring him back for the cheap price of $5 million for his age 40 season.