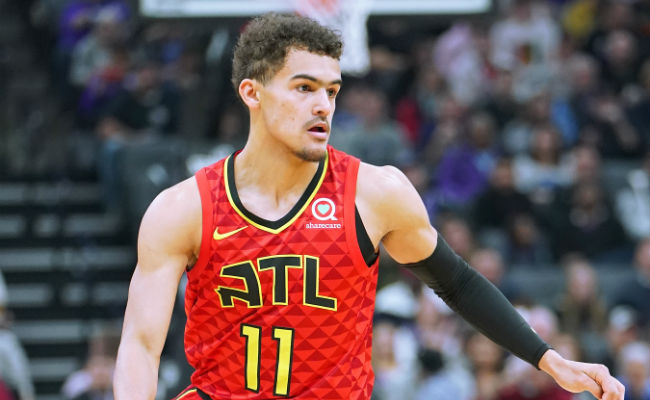 If you haven't paid attention to what's going with the Atlanta Hawks, you might want to start because Trae Young has been killing it of late and it hasn't gone unnoticed by his peers.
Since the All-Star break, Young's only scored less than 20 points in a game three times while being the focal point of the offense and dishing out 7.9 assists per game on the season, something we rarely see from a rookie point guard this soon in his career.
The cool part is very famous faces in the NBA are taking notice and voicing their support for the Atlanta Hawks rookie guard. It started with Donovan Mitchell quote-tweeting an NBA tweet proclaiming Young as this year's Rookie of the Year after Young's late game heroics in a win over the 76ers on Sunday night.

The movement only spread when second year Lakers player Kyle Kuzma seconded the movement for Trae Young to get more attention to the rookie of the Year award. Something that in the minds of many that was already given out Dallas Mavericks rookie phenom, Luka Doncic.
Never one to miss a cool social media moment, Blake Griffin tweeted out his support for Young as well. Bringing the tally to three prominent players vocally supporting Young for the award.

NBA Twitter has long since given away the award to Doncic for his torrid start to the season, but it was justified with Doncic averaging 20 points per game and shooting 44% from the field that we'd otherwise ignore outside of Dirk's final season. It also didn't help that Young started slow, shooting the ball poorly, especially from three-point range.
Since the All-Star break, however, Young has started to see the game better as he's averaging nearly 26 a game while shooting a more tolerable 45% from the field over teams like the Jazz and the Sixers as well. Doncic has been equally impressive in raising his PPG to nearly 23 a game but his shooting from the field has taken a slight hit to 41% after the All-Star break.
Needless to say, the race for the Rookie of the Year is going to be an interesting one as folks are going to pick sides and ridicule the other side (if they haven't already) instead of enjoying the ride. Let's just hope no one decides to classify what defines a rookie this year.