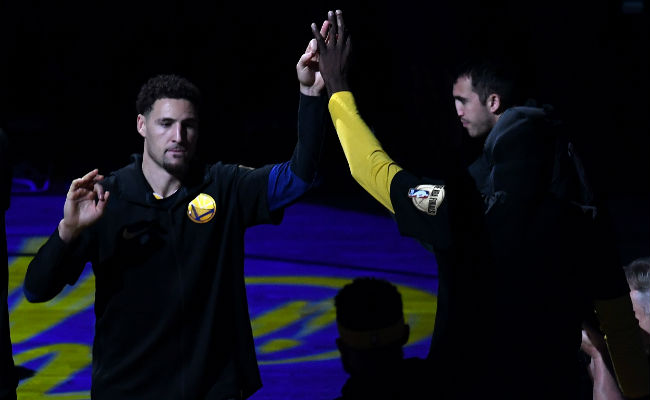 One of the many storylines heading into Game 2 of the NBA Finals was whether Klay Thompson would be healthy enough to actually take the floor. The Golden State Warriors sharpshooter suffered a high ankle sprain in Game 1 when J.R. Smith fell on his leg during the first half.
Thompson returned to the game and played well, but ankles tend to swell when the adrenaline goes away, and generally high ankle sprains are injuries that keep players out weeks, not days. Still, Thompson received treatment and admitted he wouldn't have played were the Warriors in the regular season.
But Thompson did play on Sunday night, and on Monday Yahoo's Shams Charania detailed just how Thompson was able to make it on the floor for Game 2.

The story chronicled just how Thompson's rehab went, but also the respect Green has for Thompson's ability to play through the pain.
"He wasn't supposed to play," Warriors forward Draymond Green said on his walk out of Oracle Arena. "But that's Klay. He only knows one way."
Green apparently got in touch with Nick Young and told him to anticipate more minutes with Thompson out, but the shooting guard proved Green wrong on Sunday night.
When Thompson entered the practice facility on Saturday night, it was another night spent on the training table, not the courts. Green remembered seeing Thompson limp to his media appearance on Saturday afternoon, and Green even texted Nick Young on Saturday night to be prepared for minutes in case of Thompson's absence.

"I thought there was no chance Klay was playing," Green said. "I saw him [Saturday] and saw his ankle, and I was like, 'Yeah, no chance.'"
It really is remarkable that Thompson was able to play and looked relatively unharmed despite the severity of the injury. And with Andre Iguodala still on the mend, the Warriors needed him to play well. And it seems likely that Thompson will remain a starter the rest of the way in the series, barring any more interference from J.R. Smith of course.