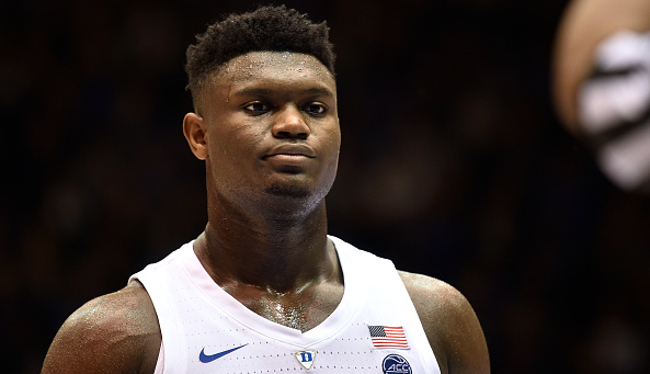 Everybody expects Zion Williamson, arguably the greatest college freshman ever, to enter the NBA Draft after one season at Duke and become a pro in the NBA. Not only that, he's all but guaranteed to go No. 1 overall in that draft. If he's in college to enter the NBA, one could argue, then there's nothing else for him to gain from playing at Duke.
Some have even argued that Williamson would be smarter to sit out the rest of his season at Duke and spend the rest of his time preparing for the draft. That argument got much louder when, on Wednesday, Williamson had one of his shoes burst open and injured his other knee. Luckily it was only a sprain and Williamson has been listed as day to day.
Despite the close call on an injury that could have been much worse, if he decided right then that he was done with college and wanted to sit out the rest of his college career then nobody would blame him. But apparently that's not going to happen. According to Duke coach Mike Krzyzewski, Williamson will return to Duke and continue playing through the rest of his freshman year as soon as he's healthy enough to play.

This is, of course, coming from his coach, and not Williamson himself, but this will likely put to bed any Duke fans concerned with Williamson leaving early.
"We would never play a kid who's not ready," Krzyzewski said. "We would never play a youngster who didn't want to play. It's not about that. He wants to play. He loves being at Duke. He doesn't like being injured. It's an injury you can get over in a shorter period of time. There's just a protocol that we have to go through to make sure he's completely ready. We're not rushing anything, so that's why we said day-to-day because it's literally day-to-day."
While this won't quiet the many people that feel Williamson should just end his time at Duke now, it will at least stop the questions about it. Williamson is going to finish his time at Duke and that's the end of that. He should get to do what he wants and if that means continuing to play in college and try to win an NCAA Championship, then more power to him.
The real debate with Williamson should be in relation to paying college athletes. While there are obvious concerns about Williamson hurting his NBA career due to injury, it's even worse when you consider that an injury could lead to a serious loss of future money. It wouldn't be perfect, but letting him make money would quell a lot of the concerns that exist with college athletes getting injured before they can reach the NBA. Although, in the near future, they might be able to skip college altogether and enter the NBA out of High School like they used to do before the implementation of the one and done rule.