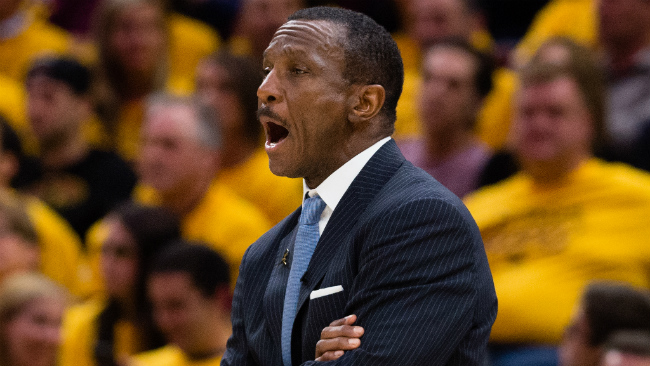 The Detroit Pistons fired Stan Van Gundy from his position as both coach and president of basketball operations earlier this offseason, as they look to move in a different direction on the bench and in the front office.
On Thursday, the Pistons hired former Grizzlies executive Ed Stefanski as a senior advisor to oversee the complete overhaul of their basketball operations department from coach to GM. What makes the Pistons situation so interesting is that they are hiring a completely new operations team, who will have to make due with a roster that's almost completely locked in for the next two years.
With Blake Griffin, Andre Drummond, and Reggie Jackson all locked into large deals through 2020, there are minimal opportunities to make quick changes to upgrade Detroit's roster this summer. That means they'll need a coach that can get the most out of this roster, and Detroit seems to have focused their search on former Toronto head coach Dwane Casey.

Adrian Wojnarowski notes that while Casey is the favorite to land the head coaching position, if he wants it, the front office shakeup set to come will likely see multiple new faces being brought in. Nets assistant general manager Trajan Langdon is reportedly a GM candidate, while Brent Barry is being considered for a "complementary" role in the front office. Tayshaun Prince is also being considered for a position in Detroit's front office as well.
Casey makes sense for Detroit given his success in Toronto in getting continued development out of their stars and the way his staff maximized the talents of their draft picks that were often from outside the lottery and the second round. The Pistons will assuredly be looking to make the postseason next year and Casey's track record indicates he would likely be a solid hire to get them to that goal.