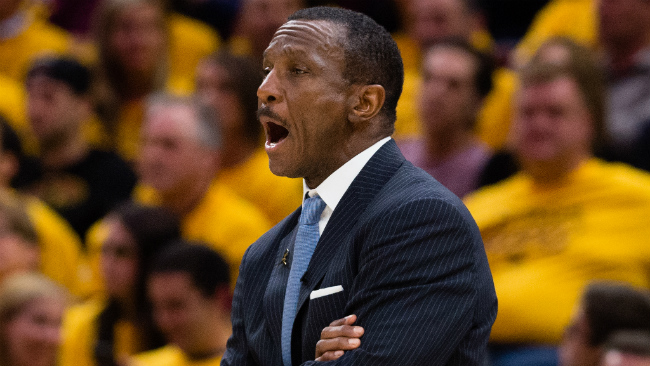 We're few weeks away from knowing the winners of this year's various NBA awards. Until then, a number of awards will be at the center of much debate and speculation, as things like Rookie of the Year and Coach of the Year have multiple candidates with strong cases to take the awards home.
But during the lead up to the ceremony on June 25, plenty of folks will give out their own awards. One such instance of this occurred on Wednesday morning, when the National Basketball Coaches Association announced their 2017-18 Coach of the Year recipient is Toronto's Dwane Casey.
The news was broken by Marc Stein of the New York Times and eventually announced by the NBCA in a release. Mavericks coach and NBCA president Rick Carlisle praised Casey in the release, saying "The Michael H. Goldberg NBCA Coach of the Year Award for the top NBA Coach as voted by his peers is one of the most meaningful in all of pro sports. Dwane Casey once again maximized the Toronto roster to achieve the top record in the Eastern Conference. Congratulations to Dwane on this prestigious recognition."

Casey is in his seventh year at the helm of the Raptors and led the team to its best regular season ever. While things ended up as they have the last three years and the team has to have some potentially uncomfortable conversations, Casey led Toronto to a 59-23 record and the 1-seed in the Eastern Conference behind a dynamic bench unit and a new, more modern philosophy regarding shooting three pointers.
While Casey came out on top, seven other coaches — Brett Brown, Mike D'Antoni, Nate McMillan, Gregg Popovich, Doc Rivers, Quin Snyder, and Terry Stotts — received votes for the award.