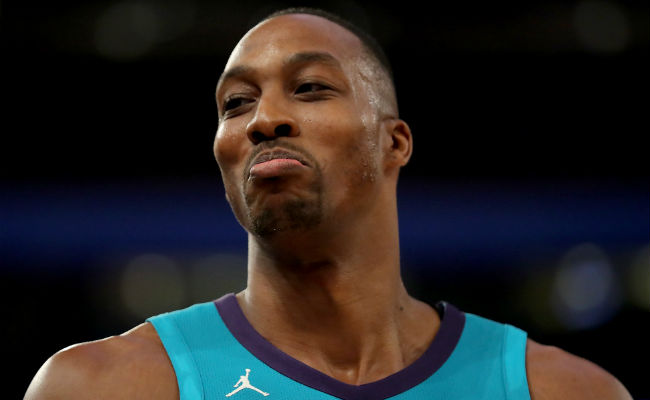 Dwight Howard's wallet got a bit lighter thanks to a gesture he made to a fan in Minnesota on Sunday.
The Charlotte Hornets center was fined $25,000 by the NBA on Tuesday after Howard made a crotch-chopping gesture to a fan during play against the Minnesota Timberwolves. First Jameer Nelson, now this.
Charlotte lost, 112-94, to the Wolves. But in the second quarter, with 1:15 left, Howard did a bit of the D-Generation X chop to the crowd while he was near Karl-Anthony Towns in the key. In fact, one of the only videos of the incident already has some music added to it.
It's tough to know exactly why Howard would take the time to do that to a fan, but it's probably not because it was a fellow wrestling fan in Minnesota he was sharing a special moment with.
At age 31, Howard is having a pretty nice season with the Hornets, who have lost two in a row on their road trip after a loss to the New York Knicks on Tuesday. He's averaging 14.6 points, 13.8 rebounds, 1.3 blocks and 1.2 assists in his first 10 games this season. Howard's not going to miss time for a gesture like this, but it certainly will cost him if he wants to keep taunting the other team's fans.