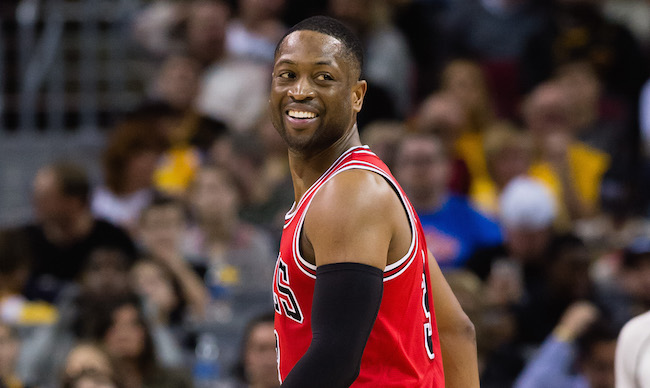 When Dwyane Wade signed with the Heat there was a hope by some that he would take Kyrie Irving's old number. He did not, disappointing those hoping for an escalation of the strange, petty back-and-forth that has waged on between Irving and the Cavs, most notably LeBron James.
While Wade chose the No. 9 (his national team number) rather than the No. 2, he is taking over at least on thing formerly occupied by Irving: his locker.
The Cavs had their first home preseason game on Wednesday night against the Hawks, meaning it was the first chance for reporters to wander into the locker room before a game and check out the new locker assignments. As The Athletic's Jason Lloyd noted, there in Kyrie's old spot was Wade's stuff.

Look, someone had to take over Irving's old locker so this isn't really that big a deal. Lockers don't just sit empty when someone leaves, but it does feel at least a bit symbolic. Wade's arrival was at least in part to fill the void left by Irving, as the veteran guard will help out in the point guard rotation at least until Isaiah Thomas is healthy and can get back on the court.
Tristan Thompson has already noted his excitement to play with a guard that will actually throw him some lobs, in what seemed like a jab in Irving's direction, and LeBron is thrilled to have his best friend in the league back on his team. Irving, meanwhile, is wearing hats about popularity contests and continuing to be one of the league's most woke individuals. All that is to say, October 17 when the two sides meet on opening night as foes for the first time will be must-see TV.