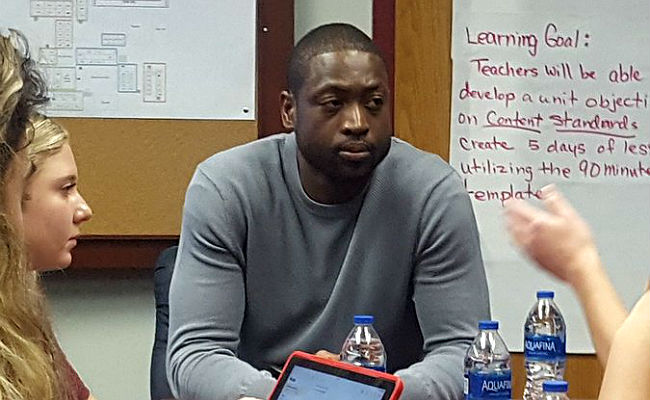 Dwyane Wade made a surprise visit to Marjory Stoneman Douglas High School in an effort to show his support for a community still grieving the loss of many young lives last month. The Miami Heat guard was touched by the tragedy of gun violence at the high school, especially when he learned one victim of the mass shooting was laid to rest wearing his jersey.
Wade, no stranger to political activism, has said acts like that are a big reason why he continues to speak out and offer support in tough times. In the weeks since he's tried to offer support to families impacted by the shooting, and on Wednesday he paid a visit to the high school to meet with students and staff.
Wade came by during a lunch period at Stoneman Douglas and grabbed a microphone in the cafeteria to say some brief words. With students crowding around him and recording every word, he told them "I'm inspired by all of you."
"First of all, I'm so excited to be back in this city and this state," Wade said to big cheers. "I just wanted to come here today and hopefully for a moment, for a second, bring a little bit of this. Bring a little excitement, bring a little joy … "
The students seemed genuinely touched by Wade's words.
"You guys have been amazing from afar, and I just wanted to come and say I'm inspired by all of you," he continued. "As someone out here in the public eye I'm proud to say I'm from this state. Because of you guys and because of the future of this world because of you guys. I just say thank you, man."
Wade's visit to the school came just hours after a brief visit from education secretary Betsy Devos visited the school, though it seems Wade was better received than Devos.
Seriously, everyone was talking about Wade's visit on Wednesday.
Wade later explained his visit and what he discussed with teachers and students at the school on Twitter.
Wade has embraced his return to Miami in a big way, and he's performed both on and off the court since he was traded from the Cavaliers back to Miami last month.