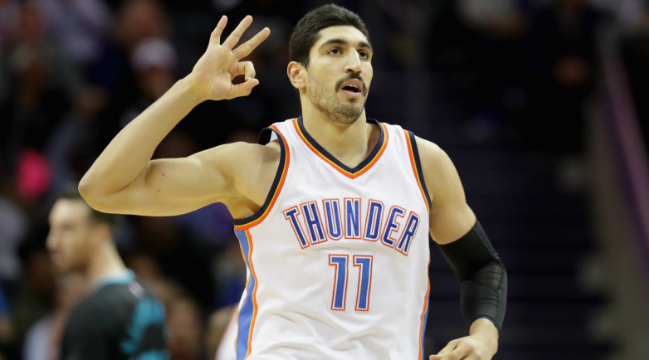 The Oklahoma City Thunder kicked off free agency with a bang. The team surprised everyone when it acquired Paul George from the Indiana Pacers in exchange for Victor Oladipo and Domantas Sabonis, a deal that most people agree was won by Oklahoma City. Now, alongside Russell Westbrook, the Thunder have a formidable 1-2 punch that can compete with just about anyone on any given night.
If you believe Thunder big man Enes Kanter, the team is about to make another splash in free agency. According to Kanter, the Thunder agreed to a deal with free agent forward Rudy Gay.
It seems a little weird that news of this caliber would get broken by a player, no? Kanter is known for having fun on social media, and players breaking news about free agents joining their team is rather unconventional.
As it turns out, Kanter didn't break anything just yet. Royce Young of ESPN reported that while Gay is in Oklahoma City meeting with the team, there's no deal between the two sides right now.
As for the name plate, Erik Horne of The Oklahoman reports that's just a prop for the visit, at least for the time being.

Before this, though, Young did point out that there was a sense around the league that the Thunder were in a good place in their pursuit of the veteran wing.
Gay would be a solid addition to the Thunder — while he's coming off of a season-ending Achilles injury and certainly has his flaws as a player, he'd be a very good third option almost anywhere. The market for him is kind of hard to predict, though, mostly because he's coming off of the aforementioned injury and there are other small forwards who have attracted more attention.
No matter where Gay ends up, he'll certainly provide a scoring punch on the wing. To learn where he ends up going, make sure you turn on push notifications for Kanter's tweets, because he seems like he's trying to own this story.
Stay up to date on the latest news throughout the offseason with our Free Agency Tracker.