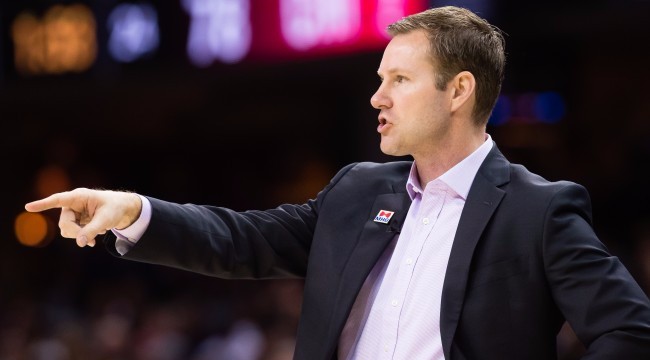 Ohio State basketball finds itself in a weird spot. It's rare that college basketball teams have head coaching vacancies in June, but usually when they do, they finds themselves in that position for a bad reason. For the Buckeyes, they're in this spot because of a seemingly mutual decision between their old head coach and their athletic department. Add in the fact that this is one of the better jobs in the sport and it wouldn't be a huge shock to see the school set its eyes on some really great coaches.
For example, a number of big names in the coaching industry have been mentioned as possibilities for Ohio State. On Wednesday night, Gary Parrish of CBS Sports dropped a huge piece of news: Chicago Bulls coach Fred Hoiberg is reportedly in the mix for the job.

Hoiberg leaving the NBA after two years for a college job seems weird on the surface. But consider that the Bulls had some serious locker room issues this season and the team's front office constantly seems to get hammered by fans and those around the league. Plus remember that Hoiberg has just seemed to be a semi-awkward fit in Chicago and it's not a major surprise he'd want to look around.
Then recall that Hoiberg was a legitimately fantastic college coach at Iowa State – he accrued a 115-56 record and made the NCAA Tournament four years in a row, plus he was revered for putting together some of the best offenses in the sport. During his final three years in Ames, the Cyclones never had an offensive adjusted efficiency on KenPom ranked lower than 12th nationally.
If Hoiberg wants to go back to college, Ohio State makes a ton of sense. It's a great job in a great conference and Ohio is an underrated state when it comes to producing high school talent, so there's a good recruiting base there – Matta's struggles to tap into it was a reason why the program wanted the part ways. We're still super early in the Buckeyes' coaching search, so odds are they have not narrowed their focus onto one guy, but there aren't many guys out there who would be a better hire than Hoiberg.

UPDATE: According to Jeff Goodman of ESPN, Hoiberg isn't as high on Ohio State's list as other candidates are. Still, he is among the people the school is considering.
McDermott is Creighton head coach Greg McDermott, who Hoiberg replaced at Iowa State.