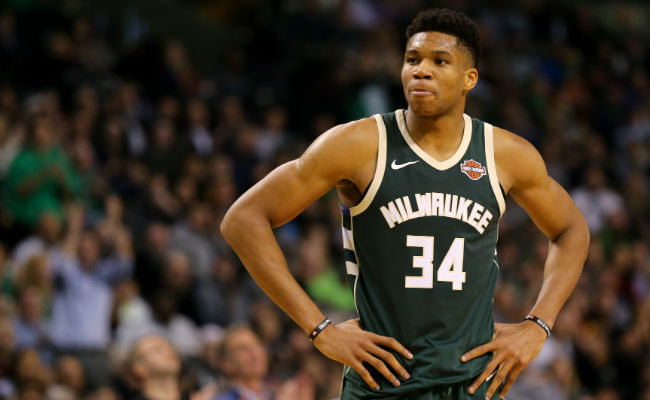 DeMar DeRozan being dealt to the San Antonio Spurs on Wednesday meant one of the cover athletes for NBA 2K changed teams after being on the cover for the fifth time in as many years — DeRozan was on the Canadian version cover of 2K18.
LeBron James (2K14), Kevin Durant (2K15), Paul George (2K17), and Kyrie Irving (2K18, originally in his Cavs uni) all bounced to new destinations shortly after their cover season, leading to some declaring it the "2K Curse," which is a far less significant curse than the Madden curse that saw tons of players suffer season-ending injuries. The 2K19 cover boys are LeBron James (who joined the Lakers after his announcement, but 2K wisely put just his head on the cover) and Giannis Antetokounmpo, but the Bucks star figures to break the spell given his contract situation.
Antetokounmpo inked a four-year extension in the summer of 2016, which went into effect last season, meaning he's under contract in Milwaukee through 2021. That's good news for the Bucks and, despite some grumblings last summer the young Greek star was already growing weary of ownership in Milwaukee, he asserted his commitment to the organization on Twitter shortly after DeRozan's trade, insisting he'll be a Buck for life.

While a nice sentiment and the one fans want to hear from their superstar player, it's also one that could bite Antetokounmpo down the road. That's not to say he doesn't mean this and these aren't his intentions, but we've heard this from players before and sometimes things change. The situation in Milwaukee might not be what Antetokounmpo wants or needs in 2021 when he hits free agency. The Bucks might decide they want to go in a different direction at some point in his career — however unlikely that seems right now.
A multitude of factors can change things and sour a relationship between a team and a player quickly, as we saw with Kawhi Leonard in San Antonio, and if the day comes that Antetokounmpo does change teams, particularly if of his own accord, this tweet will make the rounds again no matter how many years down the line it may be.