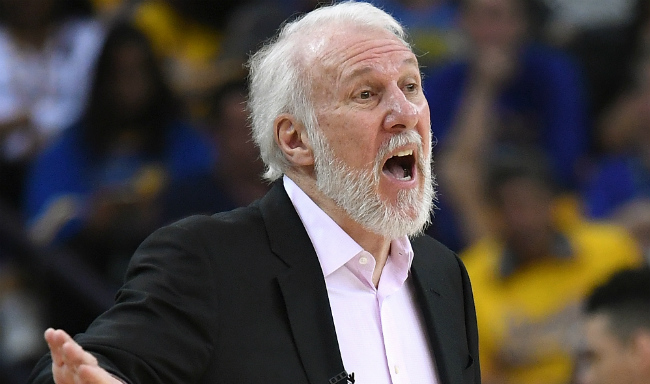 So as it turns out, the Golden State Warriors are still capable of being pretty scary when Steph Curry is on the sideline. The Warriors hosted the San Antonio Spurs in the first game of the 2018 postseason and ran their opponents off the floor, picking up a convincing 113-92 victory over the five-time champs.
It was a one-sided affair, as the duo of Klay Thompson (27 points) and Kevin Durant (24 points, eight rebounds, seven assists) did some serious work to keep San Antonio at bay. After the game ended, Spurs coach Gregg Popovich decided to take a more lighthearted approach than you'd expect out of someone whose team just lost by 21 points.
Popovich sat down with the media and gave a few sarcastic answers to their questions, including one about whether the way Danny Green played defense on Durant was successful.

"Did you watch the game?" Popovich asked the reporter. "What do you think? It didn't work very well. So we'll have Danny grow four or five inches by Monday night, tell him to jump higher and move quicker, and we'll tell Kevin 'Don't be so good.'"
Popovich has always had an … let's say interesting relationship with the media. And despite the fact that he started his press conference off by cracking a joke and telling someone to have a sense of humor, you can tell he's not in the best mood. He'll surely head back to the drawing board over the next few days, and you should never count San Antonio out, but unless something major changes, it's hard to view Saturday's total beatdown of the Spurs as anything other than a sign of things to come.