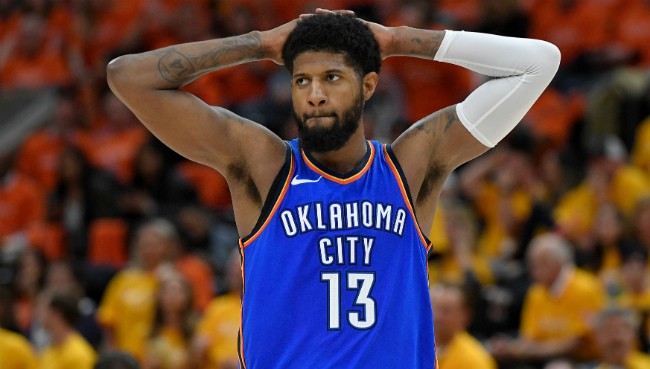 It's been pretty well-documented that the Houston Rockets plan on being one of the teams that enter the LeBron James sweepstakes this summer as part of Daryl Morey's never-ending quest to topple the Golden State Warriors. But as it turns out, James isn't the only superstar expected to be on the market who the Rockets plan on courting.
Adrian Wojnarowski appeared on ESPN on Tuesday night and let it be known that Houston plans on being one of the teams that gets in on the Paul George sweepstakes.
It makes sense on a few levels that Houston would want to bring him on board. Pursuing James is almost certainly their top goal, but George is hardly a bad consolation prize if they have to "settle" for him. He fits the Rockets' desire to have 3-and-D players populate the wing, although for George, the ability to hit threes and defend are part of his larger profile as a player rather than his two defining traits. Despite this, George doesn't necessarily need the ball all the time to thrive, which would be perfect for a team that has James Harden and, should he re-sign, Chris Paul.
Additionally, while Oklahoma City wasn't exactly a power this year, getting George weakens them while simultaneously preventing either Los Angeles team from immediately improving. Of course, the same salary cap issues that exist in getting James to Houston exist here, but getting George on the Rockets would almost certainly help them in their quest to unseat Golden State on the way to winning a ring.