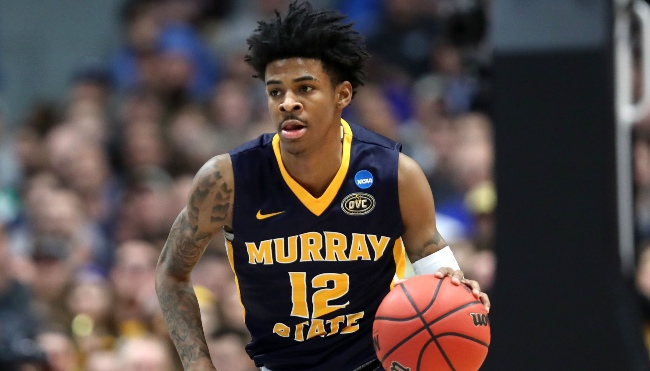 Murray State entered Thursday's tilt with Marquette as the betting underdog and, given that the Racers are a No. 12 seed in the NCAA Tournament, that wasn't a significant surprise. With that said, Murray State boasts one of the nation's most exciting players in Ja Morant and, as a result, many pegged the squad as one with the potential to pull the upset against a Big East opponent.
Forty minutes later, the Racers left no doubt and, in the process, Morant put an exclamation mark on what has been a tremendous season.
Morant is well-known to NBA Draft fans as a likely top-three pick in June and, entering Thursday's game, the 6'3 sophomore was averaging 24.6 points, 10 assists and 5.5 rebounds per game this season. Still, there were skeptics given that Morant wasn't playing against top-level competition every night. In a hurry, he assuaged some of that doubt in the first half in leading the Racers to an eight-point lead.

First, Morant flashed his passing upside by creating a drive-and-kick three and, in short order, he connected on an alley-oop to energize the Murray State faithful.
From there, Morant buried a gorgeous, step-back three to beat the buzzer at the end of the first half.
At that point, the result of the game was still very much in doubt, but Morant wasn't close to done. He put his unbelievable athleticism on screen with a memorable, two-hand dunk as Murray State began to pull away.

Morant later returned to his passing acumen, delivering a memorable left-handed dish to extend Murray State's lead to 22 points.
Finally, Morant left a statistical stamp on the afternoon, notching a triple-double and joining an exclusive club. And even by the standards of "having a triple-double is really hard," Morant found a way to post an exceedingly rare box score and impact a tournament game in a way that no one else has done recently.
All told, it was a thoroughly dominant performance from both player and team, with Morant at the center of it all. During the first half, he was in complete control of everything on the way to 10 points, eight assists and four rebounds and, while Morant did have four turnovers, he was able to navigate a Marquette defense clearly designed to stop him from scoring.
Following the break, Morant extended his off-the-charts production, finishing with 17 points on only nine shot attempts, 16 assists and 11 rebounds in keying the 19-point win. His playmaking ability was perhaps the most clearly evident but, during the trademark win, Morant also reminded viewers of his ball-handling talent and athletic burst, while even pouring a little bit of cold water on questions about his long-range shooting.
There are still perceived weaknesses in Morant's game, headlined by his lack of defensive force at the college level, but this is the kind of performance that will make him a lot more famous nationally and reaffirm the already widely-held belief that he has a lengthy professional career ahead of him. Murray State still has work to do in the NCAA Tournament, beginning with a Saturday face-off against a talented and lengthy Florida State team, but Morant and the Racers emphatically announced on Thursday evening that they're up for the challenge.