Jabari Parker and the Bulls are already done with each other. It was recently reported that Parker has been taken out of the Bulls rotation and Chicago would be seeking out a trade for the fifth year forward. It's worth mentioning here that Parker recently signed a 2-year $20 million contract with the Bulls. There's a team option next season, which mitigated much of the risk of the signing, but that's an insanely expensive contract to already be moving on from merely two months into the season.
Rarely are players such a disaster in one location, but everything with Parker has gotten worse since the day he signed. The deal was an obvious overpay from day one, but for a team that needed to spend that money somewhere, it was a worthwhile flyer in hopes that he might find his form back home in Chicago. Parker is a former No. 2 overall pick and has had to fight through some injuries early in his career. He left the Bucks not on the best terms, but there was always a chance that a bad situation in Milwaukee was holding him back. Overpaying him on what was ostensibly a one-year deal seemed a low-risk maneuver, but it's managed to look as bad as possible in a short period of time.
Rarely does a player prove they should be moved before Christmas, but Parker in Chicago has been a disaster. He was taken out of the starting lineup in preseason, and his defensive effort has been anywhere from mediocre to non-existent — not a surprise for someone that said this summer you don't get paid to play defense. He's already in need of a new location just to get a chance to prove he's still worth an NBA contract, but is there anybody out there even willing to take a flyer on $20 million?
The key to every single one of these deals posited below is the money. Teams have to be willing to trade an asset of some kind just for the benefit of a salary dump. Some teams should be able to do better than that, but at the end of the day it can be massively beneficial to just take the money and run. This also says a lot about what has happened to Parker's value as a player.
His value has taken a real hit over the years and any team taking a flyer on him isn't doing so with the intention of talent. They're doing so with the intention of saving money, or gaining more room to spend money in the future. If he proves to be be a competent player then that's fantastic, but that isn't why teams might trade for him. With a team option that will almost assuredly be declined by any team dealing for him, Parker's massive $20 million salary represents an opportunity to get out from under some long term money. It's disappointing to see a former top prospect fall so far, but Parker has played his way into that role. He'll need to be the one to pull himself out of it.

Utah Jazz
The Jazz are reportedly interested according to Kevin O'Connor of The Ringer. He didn't say how interested they are, or what they're willing to move, but it's certainly possible the reeling Jazz could take a flyer on a scorer like Parker.
Utah's defense doesn't need Parker. All the Jazz would need is for him to come off the bench and score every once in awhile. Utah could also use this deal as a way to move some unwanted money, not pick up Parker's option in the summer, and then enter the offseason with cap room. O'Connor suggested moving the recently signed Favors, but he should net far more in a deal than Parker. The Bulls being a rebuilding team aren't going to be willing to part with any meaningful draft asset to sweeten the pot, so things get a bit murky unless the Jazz are simply looking to move on completely from Favors and open up a little extra cap space next summer (Favors' deal is only partially guaranteed for 2019-20).
The problem is that Favors money is probably the only player that would make a deal work. The Jazz just don't have the contracts to make this kind of deal work with anybody else. So, are the Jazz really so desperate for a scorer they're willing to give up their most talented asset for nothing more than cap relief? That's the question Utah has to ask itself if it's going to make a deal for Parker. Maybe a third team can get involved, but a straight up Bulls-Jazz deal involving Parker would be incredibly difficult to pull off.
Miami Heat
The Heat have had an odd relationship with Hassan Whiteside for years now. The big man received a max deal after fighting his way back into the NBA on a minimum contract, but his fit with Miami has never really been good. At some point Miami will want to hand the keys to Bam Adebayo and let Whiteside go to a team that will let him be more himself. Maybe a Chicago team desperately in need of big men besides Robin Lopez is the answer for him.
A Whiteside for Cameron Payne and Parker deal works and it would help Miami achieve its main goal of clearing out some much needed cap space. The Heat roster is stacked full of deals that just need to be dumped. Miami could take on Parker's money, stick him in the Miami system for a year, then not pick up his option in the summer. Payne is also an expiring deal so Miami wouldn't need to worry about either of these contracts long term.
Does anybody actually get better here? No, this is clearly an all salary move, but the Heat are just playing for the Dwyane Wade retirement tour. The Bulls just want to get rid of Parker and find some potential talent in the process. They could do a lot worse than Whiteside. He's a flawed big man, but he has a different set of skills beyond shooting the basketball. The Bulls have enough of that as is. This might be the best deal out there for both teams if they can find each other.

New York Knicks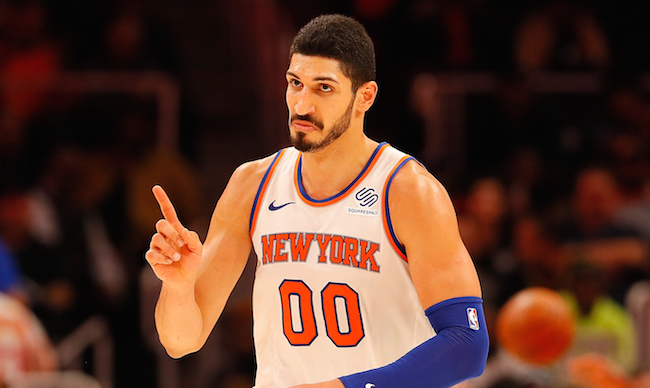 The Knicks want nothing more than to create cap room so they can make a run at a big time free agent in the summer of 2019. They're hoping the young talent they do have on the roster can grow around a duo of Kristaps Porzingis and maybe Kevin Durant or some star max player. To do this though they need to clear as much money as possible. Lucky for them, Parker's team option could let them clear him off the books after just one season.
The Knicks have already explored the idea of moving Frank Ntlikina in the right deal. So let's take him, pair him with Enes Kanter, and trade them for Parker. Throw in a second round pick going back towards New York and everybody gets what they want. The Bulls add another young guard (allowing them to let Payne walk this summer with a replacement already there) with a timeline that matches their rebuild and the Knicks get more money to clear off the books.
Kanter himself is a throwaway in this deal, but he's actually a great scorer and rebounder that could theoretically play next Bobby Portis and Robin Lopez at least a little. He's going to play with a chip on his shoulder to try and get another contract so having him around for a year just getting buckets wouldn't be the worst thing for the Bulls. Then his contract will run up and he can go elsewhere while the Bulls continue their rebuild.
Cleveland Cavaliers
You can't discuss a potential salary dump move without getting the Cavaliers involved. Jordan Clarkson and Rodney Hood works money wise, but Hood has a no trade clause meaning he'd have to accept the deal (and he can't be traded until Jan. 15). Let's just assume he says yes to make this easier.
Funny enough, the Bulls might be the team that needs convincing in this deal. Jordan Clarkson has an extra year left on his contract and Chicago might not be inclined to take that extra year of money. Attaching a second round pick would sweeten the deal enough to make it work. The Cavs are able to clear out players they don't want for what is essentially an expiring deal. The Bulls would get a second round pick out of the deal and get to take a flyer on Hood.
Both sides theoretically could find a better deal than this, but it will completely depend on the market for the players involved and sometimes two role players and a second round pick is all that's needed to move a ton of money all at once.