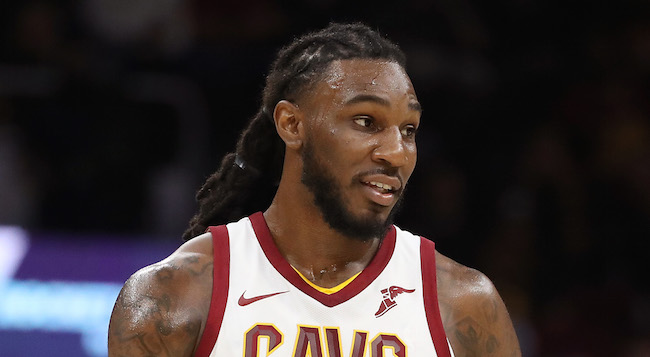 The Cavaliers were aggressive at last week's trade deadline, shipping out six players and bringing in four new guys to shuffle up their roster and try to add some shooting and athleticism, but most importantly change the locker room vibe.
Cleveland's locker room had become an increasingly hostile environment and the Cavs moved on from most of the players they could spot that were causing those issues, most notably Isaiah Thomas and Dwyane Wade. The majority of the focus since the trade has been on the new-look Cavs. On Sunday, in their first game as a full squad, Cleveland blasted the Celtics and offered plenty of reasons to be optimistic that this group will indeed fix many of the problems that plagued the Cavs for the past two months.
However, the other players that were dealt out of Cleveland are in new situations as well, looking to make the most of what has otherwise been a dismal season. Wade is enjoying being back in Miami. Thomas had 22 points and six assists in his first game as a member of the Lakers, and Crowder had 15 points, five boards and three assists in his debut with the Jazz in a win.
It appears as though the trades have worked out for most everyone and that all parties involved had to move on to fix their issues. For Crowder, it was pretty easy for him to identify the difference between his first game in Utah and his time in Cleveland. After the game he told Kristen Kenney he had fun again and was glad to be playing in a system.

"Unbelievable," Crowder said. "These guys have welcomed me since I walked through the door. And playing on the court with them is very very very fun. I got back to having fun playing basketball with a great group of guys. It couldn't happen no better.
…
"We playing off one another. Once I get better with these guys it should get better. But we're playing free. Coach gives a lot of freedom to these guys. Some structure, but a lot of freedom and I love it. I love playing with them. I love playing within a system. It's a lot of fun."
Watching the video, this doesn't seem like a conscious effort by Crowder to take digs at Cleveland, but instead this just illustrates what the problems were for the Cavs. The team wasn't having fun on the court, which while that may seem like a silly thing it is an important thing in sports. Teams play better when they enjoy being out there, and with the Cavs I'm not sure I'd ever seen a good team look more like they were at work while playing basketball than them.
The final part about the system is even more damning, but it illustrates why it was tough for a guy like Crowder to fit in. Crowder is kind of the ultimate role player. He wants you to tell him what to do, what's expected of him and to give him a defined role within a system that he can dominate. That's what made him so good and valuable in Boston, but in Cleveland that role is tougher to give a strong definition of because the system so often is, "wait for LeBron to find you."
For some, that works, but for someone that's never been a natural three-point shooter like Crowder it can be difficult to find a rhythm offensively. Couple that with being placed in a stronger defensive system and Crowder just might have found a great home in Utah. The Cavs absurd trade deadline dealings may end up being great for most everyone involved, which would be a nice ending to what was such a weird and disappointing story at the beginning.