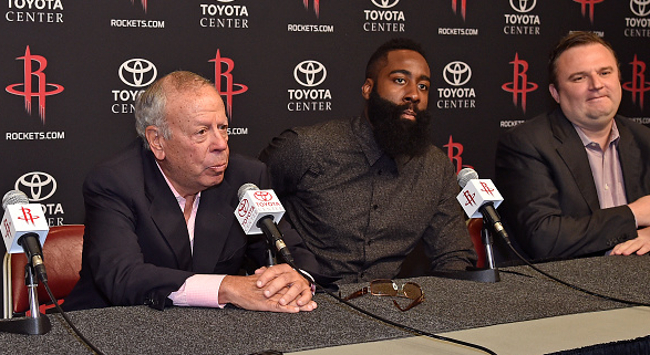 It's been a rough 24 hours for James Harden. After pictures of his first-ever signature sneaker from Adidas surfaced on Twitter yesterday, the online verdict was swift and merciless. And there was a good reason for that. They looked like they'd just been rescued from the rubble of a Chilean coal mine. We didn't think it was possible for a new shoe launch to go more poorly than the Steph Curry 2 Lows did last spring, but apparently Harden thought he should've also been the MVP of unattractive footwear.
In the wake of all that criticism, Harden has reportedly decided to refocus his efforts on basketball. According to Mark Berman of Fox 26 Houston, the Rockets' All-Star guard is organizing a players-only mini-camp for his team that is set to take place in Miami soon:
"James is doing everything," said Corey Brewer, Rockets guard/forward. "He is showing he wants to be a leader.

"He's the franchise player. He signed the extension. So it's his team, and he's doing all the right things to do what we need to do to have a chance to win championships."
This will mark the second offseason in a row Harden has rallied the troops for such a camp. A contingent of Rockets teammates also reportedly convened for another unofficial gathering during the Las Vegas Summer League. It's unclear exactly which players will participate, although Brewer, along with the recently-acquired Eric Gordon, will both attend. Harden and the revamped Rockets should be eager to atone for the vastly disappointed 2015-2016 season that saw them narrowly secure the final seed in the Western Conference playoffs before being summarily ousted by the Warriors.