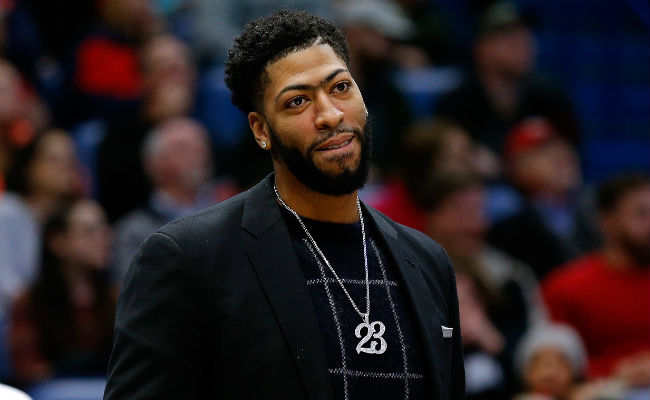 ESPN's nationally televised late game on Friday featured the Minnesota Timberwolves taking on the New Orleans Pelicans, and with little intrigue around the actual play on the court, the attention naturally turned to Anthony Davis.
Davis remained with the Pelicans past the trade deadline despite his agent Rich Paul's very public request for a trade, putting the franchise and its now lame duck star player in an awkward position. Davis is healthy and wants to continue to play basketball. The Pelicans, who will almost certainly trade Davis this summer, need to rebuild, and playing Davis clashes with that plan. Plus, if Davis were to get hurt, that could torpedo his value, negatively affecting the type of haul New Orleans expects to receive for him.
Paul reportedly called the league office to voice his concern that the Pelicans would be content to sit Davis if he remained on the roster past the Feb. 7 trade deadline, and the league then informed the Pelicans that they would be subject to a $100,000 fine every game Davis sat.
Jeff Van Gundy, who never met a rant he didn't like, was on the call for ESPN Friday night, and with no real need to address the game going on in front of him, took aim at the NBA for what he thinks has been an act of bullying.

"(Pelicans owner Gayle Benson) missed an opportunity to take a stand for her team, and small market teams in the NBA," Van Gundy said. "Anthony Davis, one of the five-best players in the NBA, publicly requested a trade, and now the NBA is trying to bully her with unduly harsh fines? If I was her, I'd say I'll pay the fines, but at the end of the day, I'm going to do what's best for my franchise."
It was a surreal atmosphere in the Smoothie King Center on Friday. Davis was booed by the home crowd during pregame player introductions, then got some cheers, then sat the entire fourth quarter despite the game being close. He played just 25 minutes in all and still dropped 32 points on the Wolves. The Pelicans won by five, which is probably the opposite of what's best for their franchise.
It seems strange for a player to make it publicly known he wants out, then have the franchise that is going to lose said player be forced to play him. It feels like a lose-lose for New Orleans, but having one of their marquee players out of view every night despite being healthy is not a precedent the NBA wants to set. We knew things would get uncomfortable in New Orleans if they held on to Davis, and this is just the tip of the iceberg.