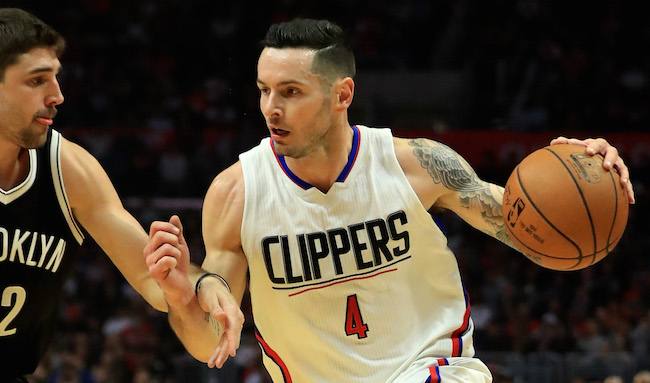 J.J. Redick signed a 1-year, $23 million deal with the Sixers this summer, which raised a number of eyebrows as the long-time role player cashed in big time on Philadelphia's need for spacing and a veteran presence. The money was big, but Redick had offers with more long-term money than the single year deal with the Sixers.
Redick has said previously that he passed up a bigger deal with the Rockets to follow Chris Paul to Houston in order to secure a bigger role in Philadelphia. With the Sixers, Redick will likely start and as the best perimeter shooter on the team by a lot, he figures to get plenty of shot attempts if he wants them.
Philadelphia was able to sell the veteran on having a significant role and the opportunities that playing with Joel Embiid, Ben Simmons, and Markelle Fultz can provide a sharp-shooter. It wasn't just a conversation about the system and play concepts that gave Redick the idea of what he can do with the Sixers, but, as he told Business Insider's Scott Davis, it was a 1 a.m. workout with Embiid and coach Brett Brown the night free agency began that made the biggest impact.

"There was a moment at about 1 A.M. on July 1st. We were actually at the practice facility and we were out on the court and we were just chatting," Redick told Business Insider. "And all of the sudden [76ers head coach] Brett Brown told Joel Embiid to go down in the post.

"I was in, like, a blue blazer," Redick said. "And we started running post actions and then we started running pick-and-roll actions. And it was just fun to be around Coach Brown and see his passion for the game and kind of talk hoops with him. He, moreso than the 1-year deal at the insane salary that I got, I think Coach Brown was really the biggest factor in me going to Philly."
Redick was clearly impressed by what the Sixers are building with their young core and thinks they're a playoff team — as Embiid and others have insisted this offseason — pending their health, or course. As for the massive amount of money he'll make this season, even Redick had to note that it was "insane" for him to get $23 million, but he certainly won't complain about it.