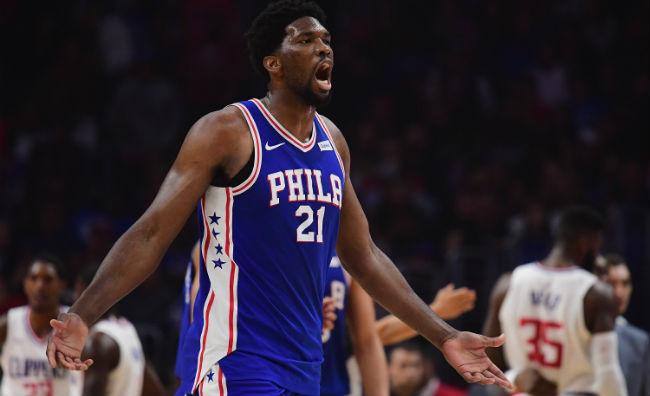 Joel Embiid didn't quite repeat his first performance this season against the Los Angeles Lakers on Thursday night. He had a really good game, but a Brandon Ingram 3-pointer gave the Lakers a win and snapped a 5-game losing streak for Los Angeles in the process.
But Embiid did get to have a bit of fun after the game when he finally got to meet a rival of his: LaVar Ball. The father of Lakers point guard Lonzo Ball was in attendance in Philadelphia on Thursday night and hung around after the game to meet up.
And as predicted, The Process finally meeting the Big Baller Brand patriarch himself proved fun. Peep the location on Embiid's Instagram post of the meeting.
It's the same as the Lavar location he used when he visited Los Angeles and had perhaps the best game of his career earlier in the season. Embiid has made it clear his "beef" is with LaVar, not Lonzo, which is why it's definitely fun to see them finally interact. And, thankfully, there was video of the occasion.
Embiid was talking to the Ball siblings before finally getting LaVar's attention. The loudest father in the NBA seemed genuinely excited to meet Embiid, and even seemed complimentary of his game.
"Don't worry about nobody on the outside," LaVar advised. "You just keep playing."
It's good advice, and certainly advice he's given his eldest son plenty of times. And it's worked for both players, though there's no telling what the future holds for the other two Ball sons.