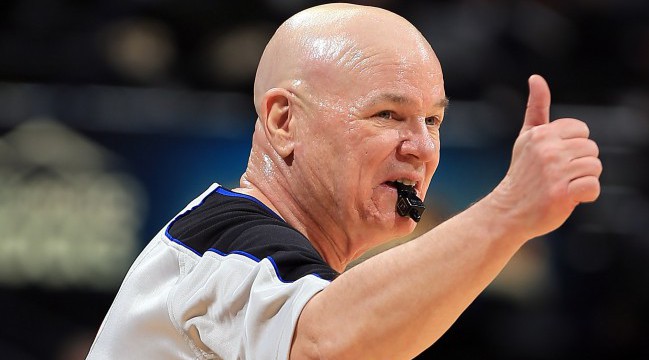 For 39 years, Joey Crawford ran up and down NBA sidelines as one of the league's most expressive officials. He worked games for everyone from Kareem Abdul-Jabbar to Karl-Anthony Towns. Unfortunately, Crawford's tenure has come to an end. After going under the knife for knee surgery in December, he told NBA.com that he's decided to hang up his whistle for good:
I was lucky. For 35 years or so it was only like, a calf [strain] here or there. But the last two years, my 38th and 39th, it just broke down on me. What're ya gonna do? You just move on.
Crawford announced at the beginning of the season that this would be his final year in the NBA. The knee injury cut short any kind of farewell tour — if such a thing could exist for an official who most basketball fans associate with falling or freaking out.
Officiating is an incredibly difficult job, especially in the NBA — where judgement calls often happen in split-second time. Crawford will likely be remembered for ejecting Tim Duncan from a game for laughing, but he was well respected around the league.
Crawford was the league's longest tenured on-court fixture following Dick Bavetta's retirement two summers ago. It's strange to imagine a league without him. A league without yelling at Joey Crawford from your couch is a league that's a little less fun. You'll be missed, Joey.
(NBA.com)