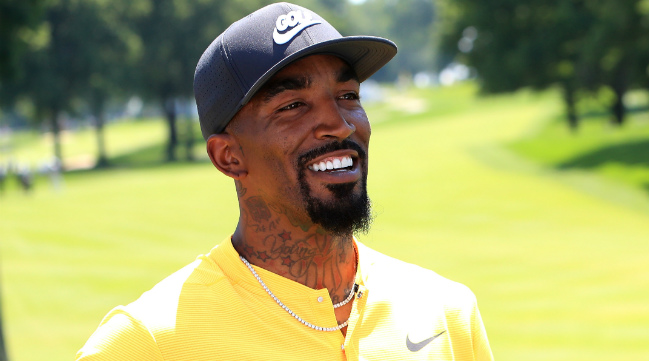 When you think of J.R. Smith, a lot of things probably come to mind. He's a delightful basketball player who is perpetually brimming with confidence and thinks he can score at any point. He's a father who went through an unimaginable scenario earlier this year when his daughter was born premature. He's, well, not afraid to speak his mind under any circumstance.
What you may not know is that Smith is a really good golfer. According to ESPN's Dave McMeniman, Smith boasts a single-digit handicap and hosts a charity tournament every year. Earlier this week, he got the opportunity to caddy for Jason Day while Day was going through a practice round before the Akron-based Bridgestone Invitational.
After, Smith and Day sat down for a Q+A with McMeniman, and Smith was asked about why golf resonates with him so much. Pipe God managed to tie his answer back to basketball, with the tl;dr being "No two shots are the same in either sport."

I think, for me, no two shots are the same. You could be on one tee box that's a par-4, 450 yards and be on the next tee box par-4 450 yards — and it's two totally different shots, you're looking at two totally different things. And for me … you never know where my [basketball] shots are gonna come from — whether it's fading out of bounds or transition or spot-up or off the dribble — no two shots are the same, so it makes me focus that much more and want to do it that much better than the last shot.
This is actually a pretty good approach to both sports, and something that makes sense coming from Smith — few guys in the NBA are more confident in their ability to hit any shot no matter the circumstances than he is, and it'd be out of character if he didn't bring a similar approach to another sport.
Ideally Smith is the next NBA player to get an invitation to participate in the Golf.com Tour. Watching a Cavs-Warriors matchup on the links between Smith and noted golfer Steph Curry would be a sight to behold.
(Via ESPN)