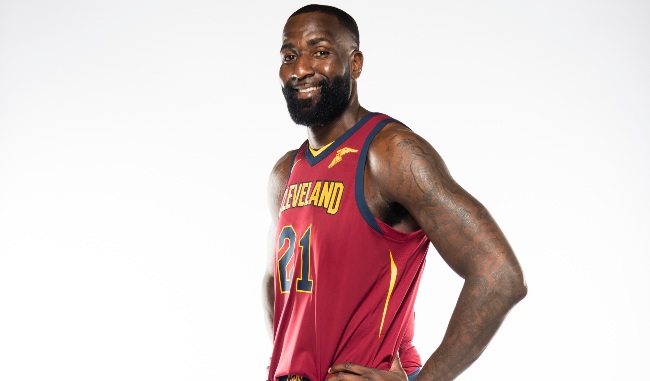 It appears that Kendrick Perkins is a big fan of NBC's The Voice. Well, he might just be a big fan of singer DeAndre Nico, who competed on this season of The Voice right up until he was "stabbed … right in the back" by his coach, Adam Levine, in a moment of reality television shenanigans.
Nico was, up until Wednesday night, a member of the team formed by the Maroon 5 singer. He ended up in this week's Instant Save performances alongside a member of Blake Shelton's squad, Dave Fenley, and one of his teammates, Reagan Strange, a 14-year-old who Yahoo points out has been the top Apple Music streamer for the show over the last two weeks. The catch: Strange was out with an unidentified illness and was unable to perform on an episode in which two of the three contestants went home.
You can head over to Yahoo for the full breakdown, but basically, while Strange could not perform, Nico performed John Legend's "All Of Me." It was pretty good! The issue came multiple times after, when Levine advocated for Strange to go on, saying things like "I have two little girls at home. The thought of breaking [Reagan's] heart by not urging everyone to give this girl a shot to redeem herself next week would be too far beneath me."
Strange ended up moving on, with her 38 percent of the vote edging out the 37 percent of the vote that Nico racked up and the 24 percent of the vote that went to Fenley. This led to Perkins, who is known for wearing his emotions on his sleeve, going off via his Instagram account. Behold:

Perkins is no stranger to getting into it with musicians — his near-fight with Drake was high on the list of the most stunning things that occurred during the 2018 NBA postseason. Still, this is a bit out of left field, partly because no one expected at any point in their lives for Kendrick Perkins to accuse Adam Levine of being a "bullsh*t mother f*cka" because of something he did on The Voice.
Reality TV, especially shows that include some element of a competition, can be absolutely ruthless. This is just our latest reminder, courtesy of NBC, the lead singer of Maroon 5, and the starting center for the 2008 NBA champion Boston Celtics.